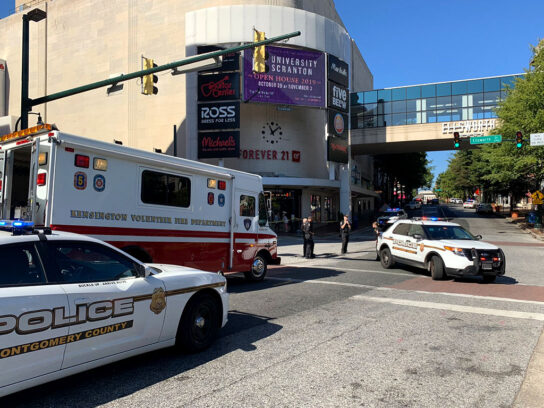 Update, 1:20 p.m.: The officer shot Monday morning at a Silver Spring parking garage has died, according to Councilmember Craig Rice.
Saddened to hear about one of our own @mcpnews Montgomery County Police officers shot and killed in downtown Silver Spring this morning. Sending thoughts and prayers to the officer and their family and friends as well as their police brothers and sisters.

— Craig Rice (@RicePolitics) October 14, 2019
His identity has not been released. A news conference has been scheduled for 2:30 p.m. in Rockville.
---
Original post: A Montgomery County police officer was shot Monday morning at the top of a parking garage in downtown Silver Spring, sent to a hospital and prompted a massive manhunt.
"To say that it's all hands on deck is an understatement," said Capt. Tom Jordan, spokesman for Montgomery County police.
The officer, whom Jordan did not name, has been taken to Medstar Washington Medical Center.
The officer was issued a bulletproof vest and a body camera. Jordan did not know if the officer was wearing the vest or if the camera was activated.
He had been on patrol checking levels of the garage, at Fenton and Wayne avenues. Jordan called it "proactive policing." 
At 8:49 a.m., he called in that he had found "disorderly" subjects on the top floor. Officers who had been dispatched as back up found the officer shot.
Shortly thereafter, officers were at nearly every corner in Silver Spring, directing traffic from the parking garage and answering questions from passers-by.
"This is one of the hardest things as police officers we have to deal with."
What we need to recognize is that it's not just affecting the police officers but it's affecting the community too," Jordan said.
Councilmember Tom Hucker said the whole community suffers when you have an event like this.
"It's certainly a reminder of the sacrifices that our police put in every single day," Hucker said.
At least three area schools were on lockdown because of the shooting and ensuing manhunt.