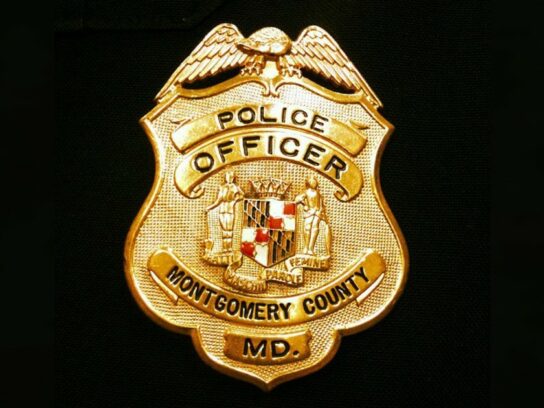 Douglas Haggerty, 36, an 11-year veteran of the Montgomery County Police Department, was pronounced dead at an area hospital after experiencing a medical problem which led to his single-car crash.
Friday at 8:06 a.m., Haggerty was driving east on Spencerville Road, after Good Hope Road, when he had an incapacitating medical event, according to police.
Police and Montgomery County Fire and Rescue members performed life-saving measures at the scene before transporting him to the hospital. He was driving his nine-year-old daughter to school. She was also taken to the hospital with minor injuries.
Haggerty had been with the county force since July of 2010 and was currently serving in the Rockville District. Prior to that, he was a patrol officer in the Silver Spring District.
He received a commendation in 2013 from the police department.
County Executive Marc Elrich wrote in a statement that he was "grateful for his nearly 12 years of service."
"My sympathies are with Officer Haggerty's family, friends, and MCPD colleagues. We are greatly saddened by this tragic accident that took the life of this beloved man of valor who was known and appreciated for his bright disposition,? Elrich said in the statement. "He leaves behind a legacy of commitment and service to the people of this County that should serve as an example to us all. He will be missed but never forgotten."
In a joint statement, members of council wrote, "Our hearts go out to Officer Haggerty's family and friends and the entire Montgomery County Police Department as we mourn his passing. "We extend our condolences and ask residents to keep his loved ones in their thoughts and prayers. May Officer Haggerty's memory be a blessing to all who knew him." 
Council President Gabe Albornoz tweeted, "Extending my deepest condolences to PO Douglas Haggerty's family, friends and the mcpnews family for his unexpected passing. For the past 11 years, Ofc. Haggerty served the residents of Montgomery County and we are eternally grateful for his service to our community."
Councilmember Tom Hucker tweeted, "So very sorry to hear of this loss. Sending my deepest condolences to the family and loved ones of Officer Haggerty and all the mcpnews family."
FOP Lodge #35, which represents the police officers of Montgomery County, tweeted, "Our prayers are with Officer Haggerty's family during this difficult time. Officer Haggerty served this community with honor and loved his job as a law enforcement officer. RIP Brother Haggerty. You will be missed by all."
MCP Press Conference Regarding the Life and Service of Officer https://t.co/z9OrJi4CB4

— Montgomery County Department of Police (@mcpnews) February 4, 2022