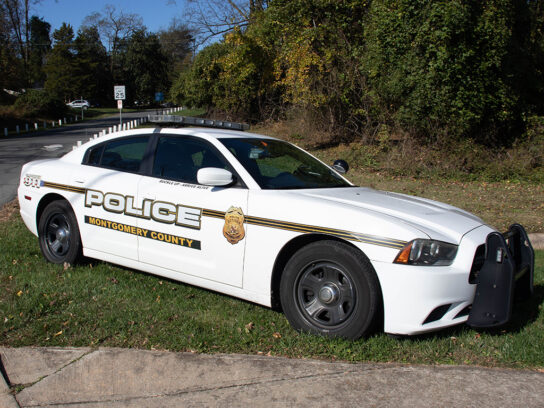 A Montgomery County Police officer is being treated for a non-life-threatening leg injury at a local hospital, a police spokesperson said.
The officer was injured while pursuing suspects in the area of Old Columbia Pike and Fairland Road in the Fairland section of Silver Spring shortly after 10 p.m. Wednesday.
According to police, the officer was injured during a pursuit of suspects during a traffic stop. Three suspects fled on foot, police said. Officers pursued the suspects, and then one officer became pinned between two vehicles. The three people are in custody, police said in a tweet.
Officers pursued suspects on foot and 1 officer became pinned btwn 2 vehicles during foot pursuit. Officer transported to local hospital with NLT leg injury. 3 suspects are in custody.

— Montgomery County Department of Police (@mcpnews) January 7, 2021
Fairland Rd & Old Columbia Pike, Collision, police officer struck by vehicle, pinned between two cars, @MCFRS_EMIHS transporting Pri2 trauma, NLT, some lanes blocked, @mcfrs M715, PE715, RS715, C715 on scene

— Pete Piringer (@mcfrsPIO) January 7, 2021
Police officer struck, urgent but non-life-threatening injuries, Fairland Rd & Old Columbia Pike, Fairland – per @mcfrsPIO.

Per @CordellTraffic a passing driver hit the officer, who was pursuing a suspect on foot.#VisionZero https://t.co/UfrnVo5IqL pic.twitter.com/FQcsGlZG7P

— Action Committee for Transit (@actfortransit) January 7, 2021