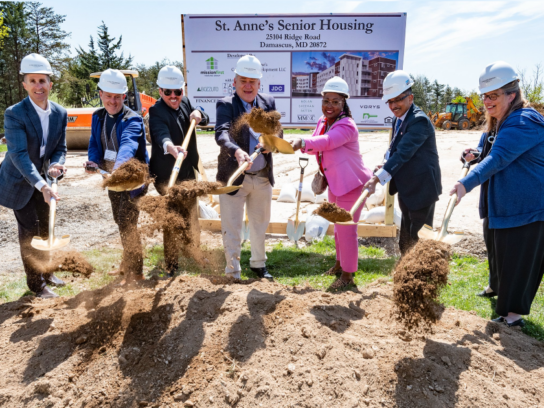 The Montgomery County Department of Housing and Community Affairs (DHCA) provides financing for the building of an affordable housing apartment property next to St. Anne's Episcopal Church in Damascus. 
County leaders held a groundbreaking ceremony on Friday for the property which will include 76 apartment units for residents ages 62 and older. 
The apartments will be located at 25100 Ridge Road and will all be priced affordably, according to a press release. 
​​"So many of our older residents are on fixed incomes and we must continue to produce affordable, and deeply affordable, housing options for them," Montgomery County Executive Marc Elrich said. "In working with St. Anne's, and with other faith-based efforts, we will help leverage available land to support housing for people who earn about $30,000 to $50,000 per year—that is, 30 to 50 percent of the area median. Similarly, we are offering County land parcels to be dedicated for housing that is affordable to people with lower incomes. With 20,000 households in Montgomery County earning less than $31,000 per year and paying more than half their income on rent, we must continue creating and preserving housing that is affordable to people at lower income levels." 
Montgomery County provided a $2.5 million loan and a Payment in Lieu of Taxes (PILOT) agreement. "The loan and PILOT support affordability, with five units available at 30 percent of Area Median Income (AMI), five units at 50 percent of AMI, 63 units at 60 percent of AMI, and three units at 70 percent of AMI."  
The total project development cost is $27.4 million. The following project financing was also obtained: 
$10 million in Freddie Mac Financing

$8.7 million in Low-Income Housing Tax Credit proceeds

$2.5 Million in State Rental Housing Works 

$3.7 Million in Mission First Loan/Deferred Developer Fee/Seller Financing 
The apartment building will be developed with Energy Star HVAC systems and windows, energy efficient lighting and plumbing fixtures and will follow compliance with National Green Building Standards. Once construction is completed, the building will include a community and sitting room, fitness room, library/meeting room and bike storage. Residents will also have access to a Ride on Route 90 stop.   
St. Anne's Community Development LLC and Mission First Development Corporation are the developers for the affordable housing community. 
"DHCA continues working with affordable housing developers to increase the supply of affordable housing and preserve our existing affordable housing," Aseem Nigam, director of the Department of Housing and Community Affairs said. "This effort includes much-needed affordable housing for seniors and I am glad that we could help provide the financing to achieve that here."