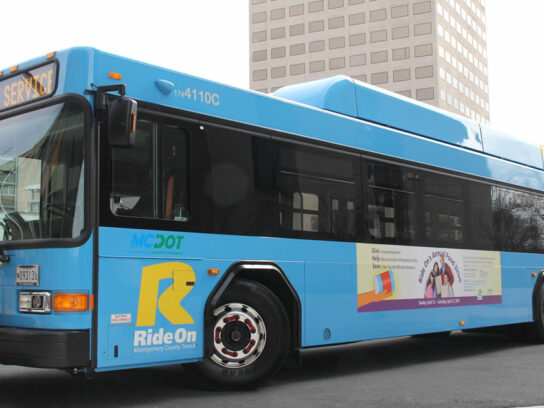 The Montgomery County Department of Transportation will receive a grant of almost $15 million to purchase 13 hydrogen fuel cell buses and construct a green hydrogen fueling station.
The competitive grant is from the U.S. Department of Transportation's Federal Transit Administration. This project is expected to be the first public transit application of green hydrogen on the East Coast. Green hydrogen is hydrogen generated by renewable energy.
The fueling site will be located at the David F. Bone Equipment Maintenance Transit Operations Center in Gaithersburg.
The county plans to use the funds to replace 13 diesel-fueled buses from its Ride On fleet. The new buses feature zero emissions and are expected to reduce the county's annual emissions by 640 tons. The buses are expected to be in service by late 2025.
The grant is expected to fund 57% of the $28.6 million cost. The county will provide the required match from its capital budget for buses.
📌NEW📌@MontgomeryCoMD has won a nearly $15 Million 'Low or No-Emissions' Award for the First Hydrogen Electric Bus Project on the East Coast.

Details▶️https://t.co/TlBiZfL2SO@MontCoExec @MoCoCouncilMD @RideOnMCT @MyGreenMC pic.twitter.com/kWwvQjb4Ki

— MCDOT (@MCDOTNow) August 16, 2022
"This is the first project of its kind on the East Coast and drives forward several of our priorities, including converting our bus fleets to clean energy, reducing harmful emissions and improving our transit system – all in alignment with our ambitious climate goals," Executive Marc Elrich wrote in a news release.
"These hydrogen buses are a key element in reaching our zero-emissions goal. They have a longer service period than electric buses to accommodate longer routes in our system and are faster to refuel," said MCDOT Director Chris Conklin.
The Center for Transportation and the Environment, a nonprofit organization in zero-emission bus deployments, will provide technical assistance. Trillium, a  provider of clean fuels, will design and construct the hydrogen fueling station.
In March, the FTA announced that more than $1 billion was available to jurisdictions for the modernization of their bus fleets and to help transit agencies purchase or lease low or zero-emission vehicles. Five hundred thirty projects were proposed for a total of more than $7.7 billion.
"With today's awards, we are helping communities across America—in cities, suburbs and rural areas alike—purchase more than 1,800 new buses, and most of them are zero-emission," said U.S. Transportation Secretary Pete Buttigieg in the news release. "Funded through President Biden's Bipartisan Infrastructure Law, this announcement means more good jobs for people across the country, cleaner air in our communities and more affordable and reliable options to help people get to where they need to go."