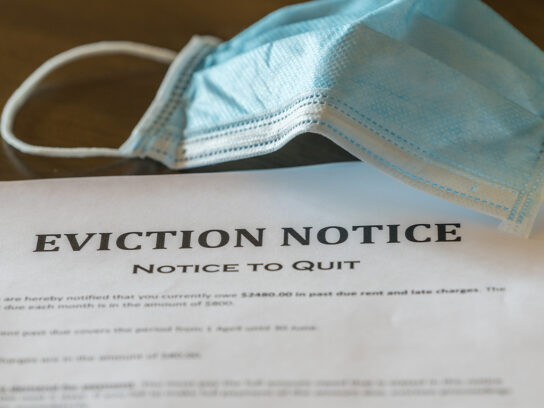 The Montgomery County Department of Housing and Community Affairs (DHCA) says they are well aware of what landlords and tenants are facing during the COVID-19 pandemic.
In terms of the eviction and homeless prevention, DHCA Director Aseem Nigam says the department has been working closely with non-profit organizations, legal aids, and for-profit entities to address landlord and tenant concerns.
"Pre COVID, the delinquency rate in the county, was under five percent, and post COVID that rate has jumped to 15 percent…so that's a 300 percent increase. So obviously, when you have this kind of increase, you know that our tenants are facing difficulties in paying the rent," said Nigam.
MyMCMedia spoke with Nigam about the hardships some tenants and landlords are facing financially during the health crisis:
On Tuesday, Montgomery County Executive Marc Elrich recommended that the County Council appropriate $20 million from the Coronavirus Aid, Relief, and Economic Security (CARES) Act to expand rental assistance for eviction and homelessness prevention. According to a press release, funds would expand the county's eviction and homelessness prevention programs. Click here for more details.
"With the Courts lifting the stay on evictions after July 25 and the schedule to hear nonpayment of rent cases after August 31, I believe it is imperative that we support tenants using all our resources," said County Executive Marc Elrich. "I recognize that $20 million is not the full amount we will need, but it represents a significant initial allotment to meet immediate challenges."
MyMCMedia also spoke with Lead Organizer at CASA, Ana Martinez, who is reminding residents of their rights. Most eviction orders are expected to be lifted on July 25:
With the Courts lifting the stay on evictions after July 25 and the schedule to hear nonpayment of rent cases after Aug. 31, it is imperative that we support tenants. I recognize that $20 million is not the full amount we will need.
Read more:➡ https://t.co/xmNug6bERi pic.twitter.com/19Hl2ig5Mw

— Marc Elrich (@Marc_Elrich) July 21, 2020