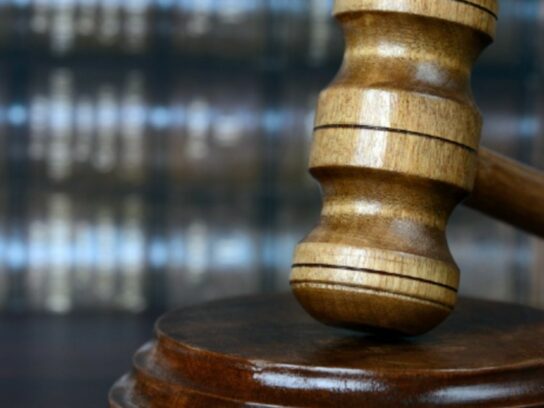 Montgomery County and state leaders are reacting to the verdict in the trial of former Minneapolis Police Officer Derek Chauvin, who on Tuesday was found guilty for the murder of George Floyd.
Chauvin was found guilty on all three of his charges: second-degree unintentional murder, third-degree murder and second-degree manslaughter. Chauvin was convicted for killing Floyd, a Black man, after holding his knee on Floyd's neck on May 25, 2020. According to a statement of probable cause filed in a Minnesota District Court, Chauvin held his knee on Floyd's neck for almost nine minutes, including three minutes after Floyd became unresponsive. Floyd was accused of using a counterfeit $20 bill at a grocery store, which prompted the call to police. Witness footage of the killing sparked international outrage and calls for racial justice.
Leaders are reacting to the verdict on social media.
This post will be updated. 
The senseless murder of George Floyd served as yet another reminder that we still have a long way to go to live up to our nation's highest ideals.

Justice has now been served, and we hope that this verdict will bring some measure of peace to the Floyd family and the community.

— Governor Larry Hogan (@GovLarryHogan) April 20, 2021
Justice has been done. But, this cannot be the end. Systemic problems with policing & with equal justice require reform. MD has taken steps to improve the quality of policing & the quality of justice. Work remains to be done. Our office is committed to continuing that work."

— Brian Frosh (@BrianFrosh) April 20, 2021
Last summer, communities around our state and nation came together across racial, social and economic lines to demand an end to institutional racism in the United States. 2/6

— Comptroller Peter Franchot (@peterfranchot) April 20, 2021
Though sentencing must still occur, for many, the guilty verdict is recognition of a reality they are already familiar with. 4/6

— Comptroller Peter Franchot (@peterfranchot) April 20, 2021
We must not settle for anything less than equal justice under the law. Black Lives Matter. 6/6

— Comptroller Peter Franchot (@peterfranchot) April 20, 2021
The conviction of Derek Chauvin will not bring George Floyd back, it will not make his family whole, but it will send the message that somewhere in America justice can be achieved.

— County Exec Marc Elrich (@MontCoExec) April 20, 2021
Hopefully, it will mark a turning point that liberates prosecutors and juries to administer justice regardless of the profession of the accused.

— County Exec Marc Elrich (@MontCoExec) April 20, 2021
It is a sad reality that Black Americans continue to suffer disproportionate use of force, which far too often leads to fatal consequences. And George Floyd's case is neither the first example of this, nor the last.
Please read my full statement: https://t.co/HFsIgeAbVH. pic.twitter.com/F9zBtm7eZO

— County Exec Marc Elrich (@MontCoExec) April 20, 2021
.@mocoboe and MCPS released a statement on Derek Chauvin's conviction: https://t.co/T0e4o0tfRp pic.twitter.com/opB33xJUzC

— MCPS (@MCPS) April 20, 2021
Watched the verdict with my family with a sigh of relief. Praying for the Floyd family. ❤️ I look forward to speaking with students, parents, and staff soon. #GeorgeFloydMattered pic.twitter.com/aGUdQbUO0o

— Renay Johnson (@blairprincipal) April 20, 2021
Guilty. #DerekChavintrial thank you God!

— Will Jawando (@willjawando) April 20, 2021
Guilty. Guilty. Guilty. My statement on the #DerekChauvinVerdict. Rest in Peace and Power #GeorgeFloyd. We continue the struggle for justice in your memory. ✊🏾💪🏾🙏🏾 #BlackLivesMatter pic.twitter.com/cVcaNm4S9W

— Will Jawando (@willjawando) April 20, 2021
Justice Served #JusticeForGeorgeFloyd pic.twitter.com/lROlk0uRyf

— Nancy Navarro (@nancy_navarro) April 20, 2021
Important reminder #GeorgeFloydverdict https://t.co/b1WYMHx0gd

— Nancy Navarro (@nancy_navarro) April 20, 2021
The verdict reflects what we've known all along — Derek Chauvin is guilty. #JusticeForGeorgeFloyd#BlackLivesMatter

— Evan Glass (@EvanMGlass) April 20, 2021
No guilty verdict will ever wipe away the suffering and torture that George Floyd endured as he took his last breath. No verdict can make the Floyd family whole. But this shows that excessive use of force by law enforcement to murder Black men and women will not be tolerated.

— Tom Hucker (he/him) (@tomhucker) April 20, 2021
We will continue to honor George Floyd's legacy in Montgomery County by pushing for fundamental police reforms. We are committed to reimagining public safety to bring an end to the cycle of violence, provide equal protection & build a better future for all of our residents.

— Tom Hucker (he/him) (@tomhucker) April 20, 2021
I couldn't be more happy with the verdict. But the fact that a man is dead because he was alleged to have tried to use a counterfeit $20 bill still doesn't sit right with me. And keep in mind, we were sitting on pins and needles awaiting the verdict when it was clear with video..

— Craig Rice (@RicePolitics) April 20, 2021
Yesterday Derick Chauvin was found guilty for the murder of George Floyd. Yet we need to remember: No guilty verdicts will ever wipe away the suffering & torture George Floyd endured as he took his last breath. No verdicts can make the Floyd family whole.

— Sidney Katz (@MC_Council_Katz) April 21, 2021
Yesterday's verdict was a step forward in terms of police accountability, but it's still a long way away from delivering the full measure of justice that all Americans deserve.

Achieving it will require continued focus. We have to keep up the fight. pic.twitter.com/lA4if6zN1d

— Rep. John Sarbanes (@RepSarbanes) April 21, 2021
America can be grateful for the jury's verdict and we hope it brings George Floyd's family some measure of peace. But George Floyd should be alive today. How many Derek Chauvins have gotten away with murder because they weren't caught on camera? Let's reform law enforcement now.

— Rep. Jamie Raskin (@RepRaskin) April 20, 2021
Today, George Floyd's murderer was finally held accountable. But a guilty verdict does not change the system that allowed this murder and the murder of so many Black and Brown people in this country. Our work to change the system continues.

— Rep. David Trone (@RepDavidTrone) April 20, 2021
The jury has reached a just verdict. But nothing will bring back George Floyd or all those who should still be alive. We must move urgently to defeat systemic racism in all its forms and the Senate must pass the George Floyd Justice in Policing Act.https://t.co/gaO5XpYD8J

— Senator Chris Van Hollen (@ChrisVanHollen) April 20, 2021
As a nation, we must do more to ensure basic human rights are protected always, even if a person is suspected of a crime. We must fundamentally reform our thinking &systems so individuals are not assumed suspects because of the color of their skin #GeorgeFloydJusticeInPolicingAct

— Senator Ben Cardin (@SenatorCardin) April 20, 2021
Guilty x3. Amen.

— Del. Lesley Lopez (@LesleyJLopez) April 20, 2021
Guilty. Guilty. Guilty.

— Jheanelle Wilkins (@JheanelleW) April 20, 2021
We need the legal system to work for Black people every time. But more importantly, we need an end to police violence. Enough.

— Jheanelle Wilkins (@JheanelleW) April 20, 2021
I would like to know if Derek Chauvin, a convicted officer, is entitled to his pension.

— Jheanelle Wilkins (@JheanelleW) April 20, 2021
Guilty. Justice. Finally.

— Delegate Sara Love (@SaraLove4MD) April 20, 2021
Guilty. Guilty. Guilty.

— Lorig Charkoudian (@LCharkoudian) April 20, 2021
The verdict is right & just. That we worried about if there would be a just verdict means we still have work to do. The fact that George Floyd's family (and so many other families) will never have their loved ones back means we have much work to do. https://t.co/zwz2g19US4

— Lorig Charkoudian (@LCharkoudian) April 20, 2021
Thankful for some measure of justice for #GeorgeFloyd & his family. This is a small step forward that must be followed by comprehensive police reform in Congress & in state capitols across the US. Proud of the work we did in Maryland to begin this process.https://t.co/Whnt4t7l7z

— Delegate Jared Solomon (@jaredssolomon) April 20, 2021
Chauvin guilty on all three charges. Justice has been served, but there is still so much more work to do to create a more just and inclusive country.

— Craig Zucker (@SenatorZucker) April 20, 2021
US criminal legal system declines to prosecute 97% of policing killings, only 1% result in a conviction. This is bitter sweet news (I believe it should've been life w/o parole), but our struggle for justice continues for #TamirRice #DuanteWright , #AdamToledo & #AndresGuardado .

— Del. Gabriel Acevero (@GabrielAcevero) April 20, 2021
This wasn't justice, but it was accountability…which is all we can expect from a system not designed to recognize the inherent humanity of Black people.

— Del. Gabriel Acevero (@GabrielAcevero) April 20, 2021
Exactly. Convict his accomplices too. https://t.co/ypZMR2RObI

— Del. Gabriel Acevero (@GabrielAcevero) April 21, 2021
Justice.

But only for one man, in one case.

We can't rest until we have justice for all.

— Delegate Eric Luedtke (@EricLuedtke) April 20, 2021
The Arc of the Moral Universe is Long, But it Bends Toward Justice. https://t.co/eLYzTFxmHt

— Senator Will Smith (District 20) (@Willcsmithjr) April 20, 2021