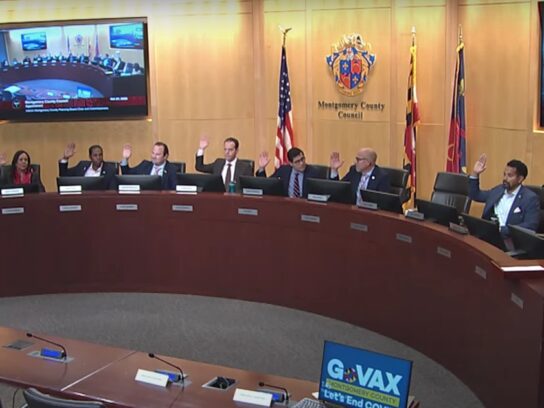 Montgomery County Council unanimously passed a non-binding resolution that defines and reaffirms the county's commitment to stand up to hate and against antisemitism.
The resolution, which has been fine-tuned since its introduction in July, includes the International Holocaust Remembrance Alliance's (IHRA) Working Definition of Antisemitism that has been adopted by 26 states across the country.
A group of 38 organizations denounced that definition, saying it will have a chilling effect on free speech against anyone who speaks out against the Israeli government and its policies.
Throughout Tuesday's discussion, several councilmembers pointed out that the county's resolution explicitly states, "However, criticism of Israeli government policies or actions does not constitute antisemitism."
Some people in the audience called out and jeered as members, particularly Evan Glass, spoke. Council President Gabe Albornoz used his gavel several times and once threatened to evict those who wouldn't be quiet, but no one was tossed out.
"At its core, it is an effort to stand up to hate," Albornoz said of the resolution. He stressed it was an educational tool that reaffirms the county's commitment against religious-based hate.
He noted that 85% of religious-bias incidents in the county in 2021 were antisemitic in nature although the Jewish population here is only 10%.
"The Montgomery County council has consistently condemned antisemitism," Albornoz said, adding that the county must not waiver in its efforts to denounce hatred against any group.
"Violence towards anyone is not acceptable to anyone in Montgomery County. That is why I am supporting this resolution," said Councilmember Craig Rice.
Councilmember Hans Riemer called all expressions of hate "an outrage," and the amendment noting that criticism of Israel does not equate to antisemitism is "a very helpful definition." However, he noted, when someone criticizes Israeli policies and then "says that Israeli polices are not held to the same standard because Jewish people have influence over our minds. That is not acceptable."
Councilmember Tom Hucker said while it is important to stand up to antisemitism, he heard from many constituents of all faiths who shared their concerns about the IHRA definition. "We need to make sure we are vigilant" in protecting free speech, Hucker said.
He also said he wished residents could have been more engaged in the process of forming the resolution, and Councilmember Nancy Navarro said she also would have preferred more dialogue. It is the council's policy not to hold public hearings on resolutions.
Councilmember Andrew Friedson, who introduced the resolution, said it was intended to start a conversation, noting, "This resolution serves as a powerful statement."
The Council votes unanimously to approve the Resolution to address and combat antisemitism. Read the full resolution and Council staff report at https://t.co/IPm4ECERTf. https://t.co/pmacYBZNKT

— Montgomery Council (@MoCoCouncilMD) November 1, 2022
Relief and joy that the @MoCoCouncilMD voted UNANIMOUSLY to condemn violence and hate with the revised #antisemitism
resolution sponsored by @Andrew_Friedson.

— Cheryl C. Kagan (@CherylKagan) November 1, 2022