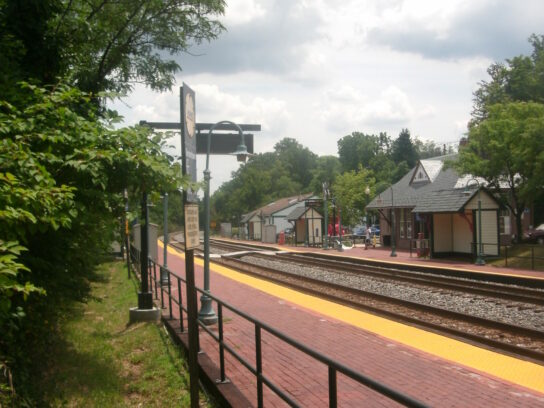 The National Capital Region Transportation Planning Board (TPB) awarded $85,000 to the Montgomery County Department of Transportation Wednesday. The funds will cover the preliminary engineering and cost estimate of a new shared-use path connecting Walter Johnson Road to the Germantown MARC Station according to a press release
The award is part of TPB's Transit Within Reach program, which aims to improve walk and bike access to high-capacity transit. This is one of seven initiatives outlined in Visualize 2045 — metropolitan Washington's long-term transportation plan.
In May, TPB issued a call for projects for the Fiscal Year 2022-2023 funding cycle. TPB required that proposed projects were located in Transit Access Focus Areas (TAFAs). TAFAs are places where it is difficult to walk, where there is high demand for walking and biking, or where there are high concentrations of minority and low-income communities.
The shared-use path in Montgomery County was one of three projects to receive funding this cycle. The other two projects will serve City of Manassas residents and the Prince George's County neighborhood of Suitland-Silver Hill.
"The department is consistently seeking out and applying for award programs to help with infrastructure buildout," MCDOT Director Chris Conklin said. "We know that access to transportation is critical to the County's economic growth and will allow for increased accessibility, which is one of our top priorities."
According to the release, the Germantown location is one of the highest-ridership stations in the MARC system. Additionally, half of the region's job growth over the next decade is expected to be located within a half-mile of high capacity transit. However, ridership growth is stymied by limited parking and a lack of safe infrastructure for pedestrians and cyclists.
TPB hopes the project will provide pedestrians and cyclists from nearby commercial and residential areas "a consistent, comfortable and direct connection" to the Germantown MARC Station, thereby reducing the need for patrons to arrive by car.
"Planning for infrastructure today will help travel choices and accessibility tomorrow," Montgomery County Executive Marc Elrich said.
"Our County is growing in population and jobs. Providing the infrastructure that will provide access to public transportation hubs is key to advancing our climate action goals and will help ensure that our communities can support future growth."
The project is slated for completion towards the end of 2022.