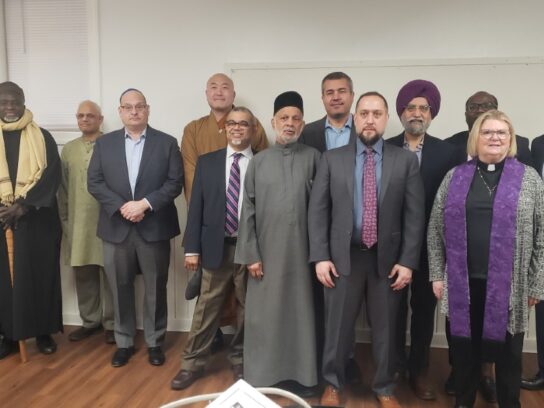 A diverse group of clergy members prayed and chanted during Thursday night's Interfaith Vigil for earthquake victims in Turkey and Syria.
The Montgomery County Faith Community Advisory Group gathered in the Casey Community Center in Gaithersburg to hear numerous religious leaders talk about the more than 55,000 people who were killed in the earthquake, the multitudes who were injured, their families and those left hungry and homeless.
"Help those who struggle and those who are in need. Watch over the hundreds of children" who are homeless, injured or orphans, prayed Rabbi Yosef Goldman of Shaare Torah in Gaithersburg.
"It's quite saddening and troubling to see how large a disaster it was," said Sitaram Kowha from the Chinmaya Mission Washington Regional Center in Colesville.
Added Rev. Chris Matthews from the Church of Latter-day Saints in Silver Spring, "These events have been beyond understanding."
Ron Halber, executive director of the Jewish Community Relations Council, declared, "Tragedy knows no bounds and it does not discriminate." He praised the diversity and the support that makes up Montgomery County.
The horrible tragedy "must not deflate us, but inspire us to act whether volunteering or raising the dollars necessary to provide the necessary resources to save lives and rebuild," Halber said.
Syrians living in the earthquake center "are refugees. They have nothing," said Walid Hafiz, from Aid All Syrians in Potomac. "If you have a problem in America, you call 911. If you have a problem in Syria, you call the White Helmets," who are volunteers trying to help. "They didn't have any equipment."
"The people there, they really are forgotten," Hafiz said.
Members of the Montgomery County Interfaith community hold a vigil in Gaithersburg for the victims of last month's earthquake in Turkey and Syria @mymcmedia pic.twitter.com/HSBbxEyir8

— suzanne pollak (@SuzannePollak) March 16, 2023