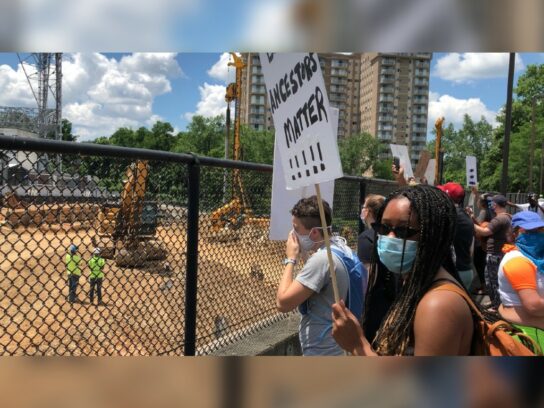 After almost 12 hours of testimony Monday, a preliminary injunction on whether to allow the Housing Opportunities Commission to sell land in Bethesda that was a former Black cemetery will continue Friday.
Judge Karla Smith of Montgomery County Circuit Court scheduled closing arguments for late Friday afternoon on whether the HOC's proposed sale of Westwood Tower Apartments may proceed.
The HOC wants to sell the apartment complex on Westbard Avenue to Charger Ventures LLC for about $50 million. However, the Bethesda African Cemetery Coalition filed suit to halt the sale, because they believe their ancestors were buried on part of that land. Coalition members have been fighting for several years to have the site memorialized.
Harvey Matthews, who was born in 1944, gave an emotional description of his youth where he grew up along River Road. He played in that cemetery, because Blacks were not allowed to use the public parks at that time. The Macedonia Baptist Church on River Road was, and continues to be, the center of his life. That church, "is the last thing from the Black community that is still there," according to Matthews.
"I know there was a cemetery there," he said, adding that he and his cousins played hide and seek and would cut across the cemetery to walk to and from school.
The Black community at that time consisted of about 55 homes around River Road with 205 residents, he estimated.
When he got older, he had a part time job nearby in the late 1960s and had a direct view as bulldozers and other large vehicles leveled the land for the Westwood Tower Apartments, including the area in which about 200 tall gravestones were located, Matthews said.
During construction, "They were finding body parts – arms, legs," he said. When a body part was located, a loud whistle blew and all work stopped, Matthews recalled. Then the body parts were placed in a burlap bag and taken to Seneca Creek for disposal, he testified.
If anyone were to dig in that area now, Matthews said he believed "body parts will jump up at you like popcorn."
Stopping the land sale is important to Matthews. "I have to speak on behalf of loved ones who've gone to the Lord," he said. "The ones who are left in the land of the living can speak." He vowed to continue speaking out. "Until the last breath that I breathe, I will be fighting for justice with the coalition."
Also testifying was Lyle Torp of Silver Spring, the managing director of the Ottery Group, which conducted an archaeological study of the parcel of land in 2017 for the Montgomery County Planning Board.
"There is no doubt there's a cemetery on that property," he said. Torp also testified that he thought it was "unlikely" that all the buried bodies had been exhumed when the apartment complex was constructed.
Also testifying Monday were Nanette Hunter, a great-grand niece of someone who was buried in the cemetery; Rev. Segun Adebayo, Pastor of Macedonia Baptist Church and Kayrine V. Brown, HOC acting secretary-treasurer and executive director.
Related Post
County's Sale of Land Home to Onetime Black Cemetery Temporarily Blocked by Court