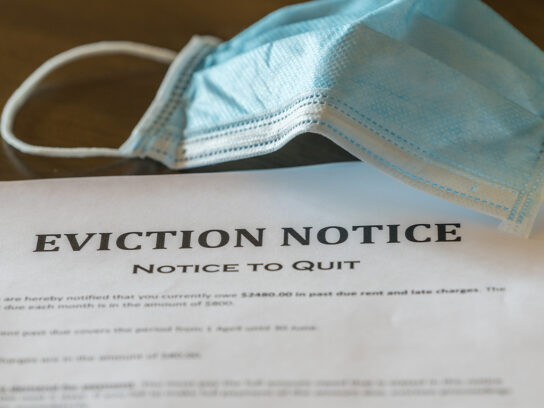 Mari, who asked that her last name not be published, is two months behind in her rent at the Northwest Park Apartments on Southampton Drive in Silver Spring, where she lives with her spouse and two children.
"She has been receiving phone calls from the management office, asking for her to pay rent," she said through her translator, Tanushree Isaacman, an associate organizer with Action in Montgomery.
Mari's husband works for a company that makes glass for construction. She lost her job as a housekeeper because of COVID-19, which has forced them to struggle to pay for rent and food.
"There are many families in Northwest Park who have had to borrow money to pay rent," Mari said, noting that the majority of Northwest Park Apartments residents are immigrants who work in jobs that cannot be done at home. They are baby sitters, housekeepers, construction and restaurant workers, said Mari, who has lived in Silver Spring for 14 years.
"They are some of the families who are most impacted by COVID," she said.
The El Salvadoran native said the county has offered financial help, but it hasn't been enough. She expressed gratitude for the county council's relief efforts. In April, the council enacted the Covid-19 Renter Relief Act, which prohibits landlords from increasing rent beyond the Department of Housing and Community Affairs' (DHCA) rent guidelines of 2.6 percent for residential tenants during and for a period of 180 days after the Covid-19 public health emergency.
County Executive Marc Elrich has recommended to county council that it appropriates $20 million to expand its rental assistance for eviction and homeless prevention.
Mari, along with other members of the tenants' association at Northwest Park, met with the apartment management company in late June. They told residents that "many, many tenants were behind on rent and they were only receiving a small percentage" of what is owed to them, she said.
As far as she knows, no one in the 860-unit complex has been handed eviction notices.
Isaacman said the areas hardest hit by the global pandemic are around Gaithersburg , Montgomery Village and Long Branch. "The stories we are hearing are painful," she said. "Families are really suffering."
Some have resorted to taking out credit card loans to pay their rent "which is putting them even deeper into debt," Isaacman noted.
Until July 25, it is illegal for anyone in Maryland to be evicted by the courts.Because the first to be evicted will be those whose legal processes started before COVID-19 hit, Matt Losak, executive director of the Montgomery County Renters Alliance, expects that mass evictions won't begin until September.
About 20,000 county residents are facing eviction, Losak said. "It will be a tsunami, literally," Losak said, comparing people being evicted to a two-foot high wave that "keeps coming, and it doesn't stop."
Mari said if she is taken to court and eventually evicted, she has nowhere to go, saying, "I am worried."