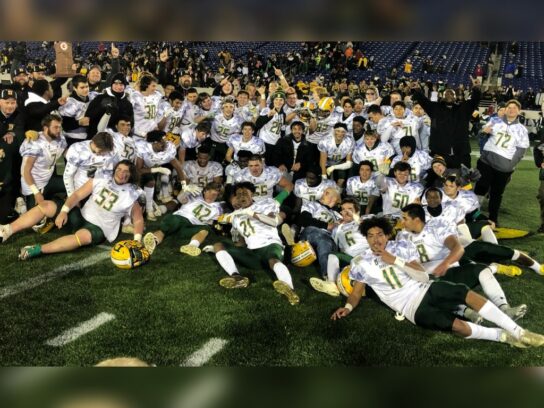 Last year, Damascus came into the Maryland 3A state championship game riding a 53-game winning streak and having won three state titles in a row. Then something unexpected happened — they lost to Oakdale.
With a chance to reclaim the championship trophy, the Swarmin' Hornets left nothing to chance Thursday night routing Linganore (12-2) 38-0 at Navy-Marine Corps Memorial Stadium in Annapolis to win the Maryland 3A state title.
Damascus (12-2) scored on a short, first quarter run by 6'5″, 290 pound Bryan Bresee — normally a defensive lineman and offensive tackle — and never looked back. The Hornets dominated both sides of the ball on a cool evening played at the Naval Academy's home stadium.
For Damascus, this year was about more than just football. A handful of junior varsity players were involved in an October 2018 rape that led to charges against students, loss of jobs for some in the school's administration and probationary watch on the entire football program. The team had to forfeit its first game of the season due to an illegal practice held in the off-season.
Head coach Eric Wallich has now won four of the last five state titles but this one may have been the most emotional one.