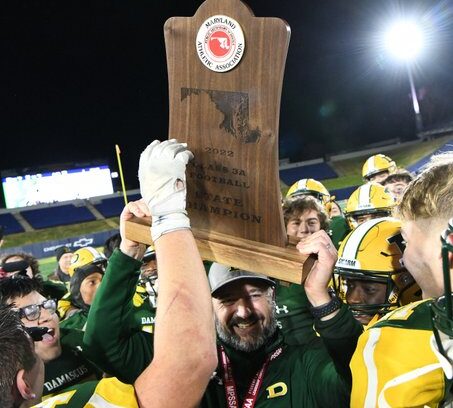 Damascus (12-1) totaled 338 rushing yards in its 21-14 victory over Oakdale (11-3) and claimed the 2022 Maryland class 3A state championship in Annapolis Saturday. 
Senior running back Dillon Dunathan – MCM's Montgomery County High School Athlete of the Week – led the way for the Swarmin' Hornets, totaling 228 rushing yards and two touchdowns on 27 carries. 
Dunathan concluded the Hornets' opening five-play, 99-yard drive with a 31-yard rushing touchdown that put Damascus on the board first. 
Damascus built on their 7-0 lead with a 27-yard touchdown pass from quarterback Thomas McDarby to wide receiver Dominic Hess midway through the second quarter. On their opening drive of the second half, the Hornets drove down the field in nine plays and scored on a 27-yard touchdown run by Dunathan, extending their lead to 21-0.
The Oakdale Bears then stormed back, as quarterback Evan Austin threw two touchdowns to keep the Bears' championship hopes alive.  Austin's nine-yard touchdown pass to Hunter Thompson brought the score to 21-14 with 3:55 left to play.
Oakdale attempted an onside kick on the ensuing kickoff, but Damascus recovered the ball. From there, Damascus picked up three first downs and let the clock run out, sealing the victory.
Offensive lineman Brandon Fuentes attributed the Hornets' success on the ground to one thing: trust.
"For us, it's all about trust. Each person trusts the other person to do their job," Fuentes said. "I'm glad that Coach [Josh Klotz] trusts me and the offensive line enough to just run it down the middle."
Damascus head coach Josh Klotz ended his third season as head coach with his first career Maryland state championship. Klotz praised his players for their preparation and effort in their win over Oakdale.
"I'm just proud of the way these guys were resilient and fought and finished," Klotz said.
This win marked the 12th state championship in Damascus history, including five state final wins since 2015. 
Smiles all around as Damascus receives the Class 3A championship trophy! pic.twitter.com/HlCCLjgR91

— MyMCMedia (@mymcmedia) December 4, 2022