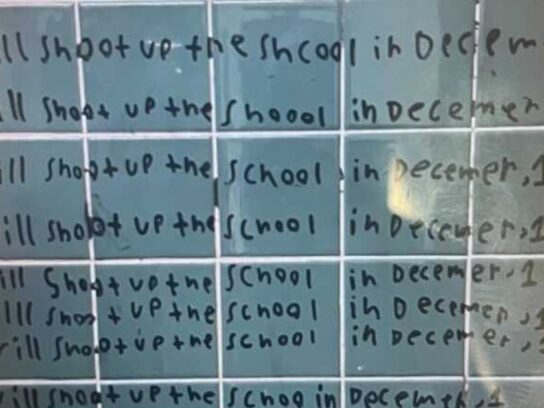 Graffiti found in a John F. Kennedy High School bathroom Nov. 30 included a misspelled threat that someone "would shoot up the school Decemer 1." The hate message that was written numerous times also included a laughing emoji.
There were no reports of an incident at the school in Silver Spring that day.
According to a letter from Principal Joe Rubens, school staff "worked quickly to cover the images." He said he was "deeply disheartened" to learn of the vandalism "that included language and references of symbols of hate speech that are harmful and unsettling for many in our community."
The school stands against acts of "hate, hateful and harmful rhetoric," Rubens wrote in his email. He added, "These actions will not be tolerated, and any students involved will receive disciplinary consequences."
Email requests for information to Montgomery County Public Schools and Montgomery County Police were not returned.
Parents took to Next Door to voice their concerns. Some noted how scared their child was and others vowed to keep their student home that day. Others suggested the school speak with English teachers, who might know who cannot spell December.