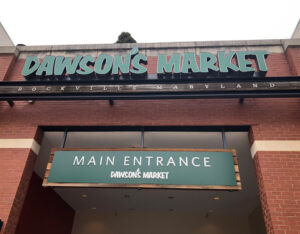 Dawson's Market, a Rockville grocery store, will be distributing 500 free meals to families facing economic hardship due to the COVID-19 health crisis on Tuesday. Each meal distributed will be able to feed two adults and two children, and will include meat options, vegetables, pasta, and cookies.
Meals will be distributed in a no-contact, curbside pick up. All recipients of meals must stay in their car, and Dawson's Market employees will place the meal in the trunk. Families must sign up to receive a meal and select a time slot to pick up their meal. Meal pick up will take place from 10 a.m. to 2:15 p.m. on Gibbs Street in Rockville Town Square opposite VisArts at 150 Gibbs Street corner of Gibbs and Beall.
Bart Yablonsky, the owner of Dawson's Market, hopes that the meals can help those suffering from financial hardship during this time.
"I feel for all the people who are unemployed, and we're fortunate to be open, but there are so many small businesses right now that aren't. I truly don't know how people are surviving right now," Yablonsky said.  "We wanted to do something to support the community that has supported us so much since we reopened."
Dawson's Market also received support from Four Seasons Produce, United Natural Foods, Rao's Pasta Sauce, Whisked!, Happy Snacks, Acme Paper, and Good Molly's, and thanked them for their donation to the Rockville community.