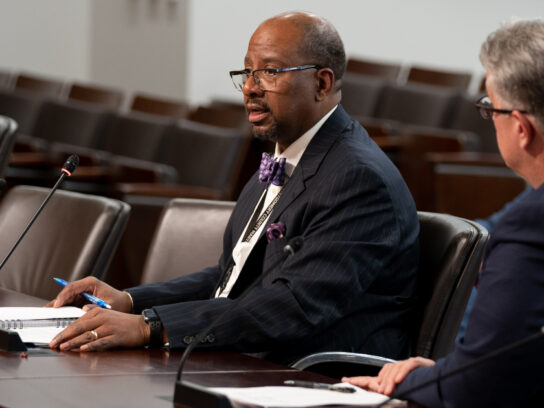 Dr. James Bridgers, who has been acting health officer and chief of public health services for Montgomery County since September 2021, unanimously was named chief of public health services Tuesday morning.
Dr. Travis Gayles left in September 2021 as the county health officer to take a new job in California.
Prior to being named acting health officer, Bridgers was deputy health officer.
He will earn $196,000 a year plus benefits.
As the county's senior public health official, Bridgers is responsible for administrative oversight and direction for epidemiology, maternal and children's health, school health services, community and population health, licensure and regulatory services, communicable diseases and emergency preparedness.
He also will serve on county boards and commissions that pertain to health.
Dr. Kisha Davis is the county health officer.
The Council congratulates Dr. James Bridgers for his appointment as Chief of Public Health Services in @MoCoDHHS. We appreciate his years of dedicated service and his commitment to improving public health and expanding access to health services in Montgomery County. pic.twitter.com/QcMvHK2HzZ

— Montgomery Council (@MoCoCouncilMD) January 24, 2023
James Bridgers was just unanimously named Chief of Public Health Services for Montgomery County @mymcmedia @MoCoDHHS @MoCoCouncilMD

— suzanne pollak (@SuzannePollak) January 24, 2023