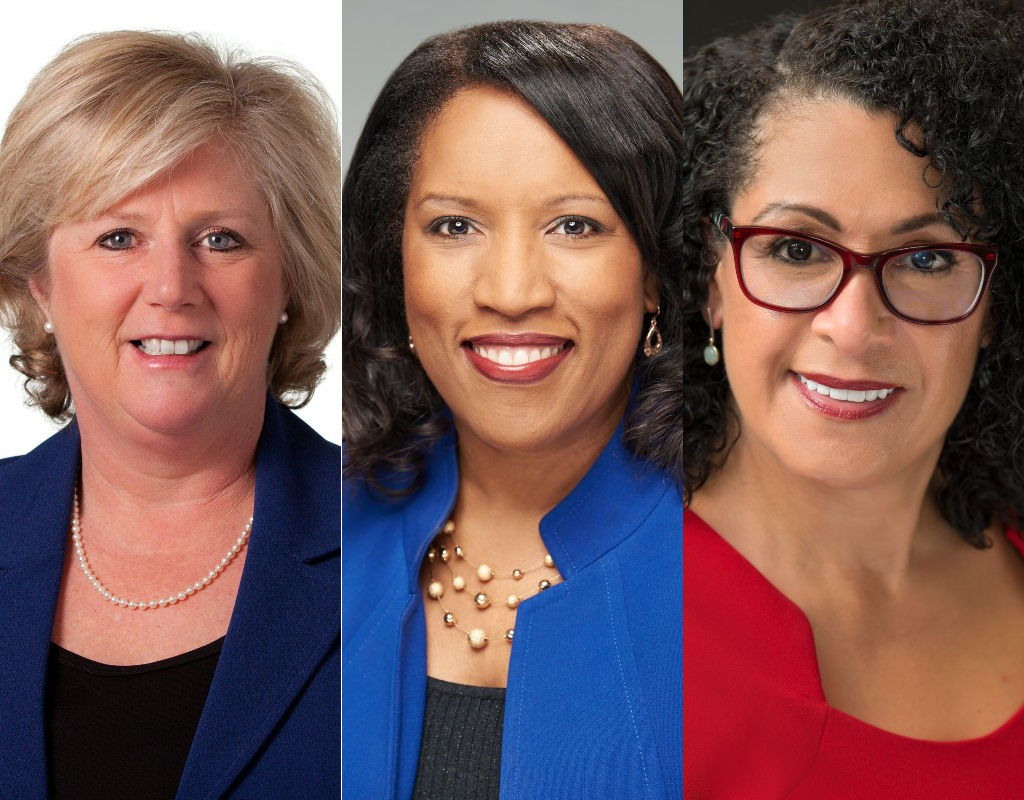 A panel of women business owners joined Kelly Leonard for Montgomery Community Media's December's Small Business Network (SBN) session.
The series of monthly morning sessions facilitated by Kelly Leonard addresses topics of interest to small business owners in Montgomery County.
December topic was  "Turning Challenges into Opportunities."
Watch the panel discussion, which was recorded live, here:
The panel included Kathy Benson, Jennifer Collins, and Staci Redmon.
Kathy Benson, co-founder and CEO of ORI, is a visionary leader who has shepherded ORI's evolution from a small, low-tech data entry firm into today's technology-driven, social media aware, full-service customer experience firm. Through three decades of challenging economic environments, Benson has consistently identified opportunities, nurtured relationships, and built a solid team focused on delivering excellence. She is a highly respected business leader in industry and women-owned business circles and an active member of Vistage International, the Greater Washington Board of Trade, and the American Society of Association Executives (ASAE). In addition, Benson volunteers with the Women Presidents' Educational Organization D.C. Chapter (WPEO-DC) as a business leader for the Sage Advice developmental program.
As President and CEO of JDC Events, Jennifer D. Collins, CMP, has built a company that tells stories through engaging experiences and produces events for leading brands all over the world. She serves as Vice-Chair of the Board for the Women Presidents' Educational Organization (WPEO) and is an internationally best-selling author of Events Spark Change: A Guide to Designing Powerful and Engaging Events.
Staci Redmon is Strategy and Management Services (SAMS) Founder and Chief Executive Officer. Her energetic leadership, passion, and vision has propelled SAMS to the solutions provider it is today, building engineering solutions that are saving lives and making positive lasting impacts.  Staci is a committed civic leader and philanthropist who has been featured in numerous publications, and Staci is a sought-after speaker and thought leader worldwide.
The Small Business Networking Series is held at Montgomery Community Media (MCM) studios in Rockville and typically begins at 8 a.m. and finishes promptly at 9:30 a.m.
https://www.instagram.com/p/B6LWqKcDfJx/
About Montgomery Community Media's Small Business Network Series
The series of monthly morning sessions address topics of interest to small business owners in Montgomery County.
Moreover, the series offers the opportunity to invigorate and innovate businesses with insight and information from regional business leaders' presentations and question and answer sessions. Indeed, seminars and networking can enhance the success of local businesses in Montgomery County.
Montgomery Community Media is located at 7548 Standish Place in Rockville, walking distance from the Shady Grove Metro station. Free parking is available.
You can view previous speakers and events, here.
SBN is Brought To You By