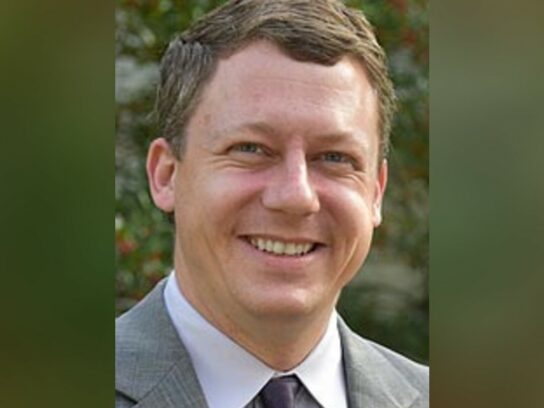 Del. Eric Luedtke (D-MD. 14), who represents Montgomery County and is the House of Delegates Majority Leader, delivered a brief Democratic response to Gov. Larry Hogan's State of the State address.
In a virtual address on Maryland Public Television (MPT) immediately following Hogan's, Luedtke highlighted racial inequality and said it must be addressed.
"And we hope that the governor will join us in our efforts to pass long-overdue policing reform and our speaker's racial justice agenda. Maryland was founded on a promise of freedom and opportunity. But that is a promise that has throughout our history been delivered unevenly, particularly for Marylanders of color," Luedtke said.
"It was the generation of Frederick Douglass and Harriet Tubman that ended slavery. It was the generation of Thurgood Marshall and Dr. Martin Luther King, Jr. that ended legal segregation. It is the responsibility of our generation to end unequal of Black citizens in our criminal justice system and it is the responsibility of our generation to address racial inequalities in housing, in business ownership, in education and in wealth creation. We must make equal opportunity a reality and not just an empty promise. We must use this moment to build a more just and equitable Maryland for future generations. Maryland will never reach its full promise until all Marylanders have equal access to the American dream."
Hogan did not address racial injustice in his speech. He did reference the 2015 Baltimore riots as he reflected on challenges the state has faced over time, like when residents "rallied behind our largest city, which was beset by the worst riots in 47 years."
Like Hogan, Luedtke focused on pandemic recovery and economic relief.
"Working with the governor, the legislature will provide immediate relief for Maryland families and small businesses impacted by the pandemic. We know that working and middle class families have been hit the hardest, and we are dedicated to providing direct relief to them. And to Maryland small business owners who have been holding on through incredibly difficult times: help is on the way," he said. Luedtke criticized the state's COVID-19 vaccine rollout and said Democrats will not hesitate to demand better from the state.
"We will keep pushing him to fix the bungled [COVID-19] vaccine rollout. Every Marylander that wants a vaccine should be able to get a vaccine…"
On MPT, following his speech, Luedtke said communication from the state about vaccines is most important.
"The public is deeply confused about how to get access to a vaccine. You have the governor announcing that people in 1C are eligible to get a vaccine before we've even finished 1A… the communication about it has been absolutely abysmal."
He said on Thursday, the House and Senate would announce changes to unemployment insurance so unemployed residents can receive reliable benefits more quickly. Luedtke said Democrats will work to help students recover from learning loss and called on the governor and state school superintendent to work together with educators and parents in regard to reopening.
"And we will work to provide students with what they need to recover from learning loss. And we will demand that the governor and the superintendent of schools to work with parents and teachers on school reopening instead of demonizing or threatening them," he said. In his address, Hogan reiterated his call for schools to reopen for in-person learning. During a press conference Jan. 21, the governor urged all school districts to offer some form of classroom instruction by March 1. Hogan noted that in several other states, teachers that don't commit to returning to the classroom are penalized. During the presser, he said if school systems can't commit to returning to the classroom, Maryland "will explore…legal avenue[s]."
ICYMI: Check out our Democratic response to the Governor's State of the State Address on @mptnews. I was proud to speak on behalf of my amazing colleagues in the House and Senate. https://t.co/4ZC0DMUiS2

— Delegate Eric Luedtke (@EricLuedtke) February 4, 2021