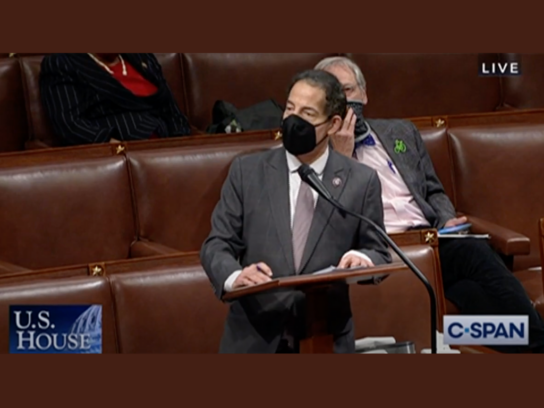 Update: 4 p.m. on Feb. 4
Through his attorney, Former Pres. Donald Trump called U.S. Rep. Jamie Raskin's letter "your latest public relations stunt" and went on to call the upcoming impeachment hearing "this unconstitutional stunt."
Here is the response from attorney David Schoen.
🚨Response to Democratic Congressman Jamie Raskin🚨 pic.twitter.com/I13JBvbkmD

— Jason Miller (@JasonMillerinDC) February 4, 2021
---
U.S. Rep. Jamie Raskin, the lead impeachment manager, wrote to former Pres. Donald Trump Thursday requesting that he provide testimony under oath in regard to the Jan. 6 storming of the U.S. Capitol.
"In light of your disputing these factual allegations, I wish to invite you to provide testimony under oath, either by or during the Senate impeachment trial," Raskin wrote. He was referring to Trump's legal teams' answer to the Article of Impeachment, which concluded that Trump "performed admirably in his role as president, at all times doing what he thought was in the best interests of the American people."
Raskin, of Takoma Park, asked Trump to either provide testimony, including cross-examination, by Feb. 8 and no later than Feb. 11.
"If you decline this invitation, we reserve any and all rights, including the right to establish at trial that your refusal to testify supports a strong adverse inference regarding your actions (and inaction) on January 6, 2021," Raskin wrote. He asked for a response by Feb. 5 at 5 p.m.
BREAKING: House Impeachment Managers Request Former President Trump Testify Under Oath Next Weekhttps://t.co/DDGc6y7vwH

— House Judiciary Dems (@HouseJudiciary) February 4, 2021