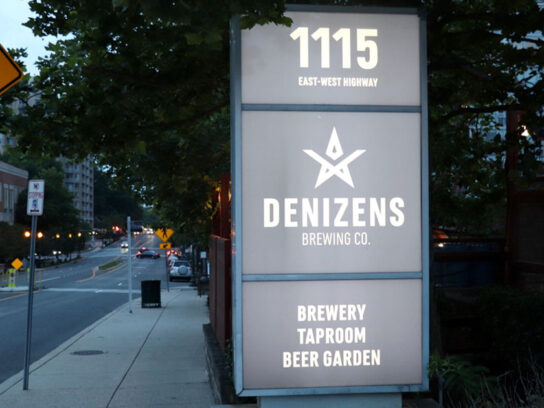 Julie Verretti, co-owner and founder of Denizens Brewing Company in Silver Spring, was U.S. Sen. Chris Van Hollen's virtual guest at Tuesday night's State of the Union address.
The two met on Zoom prior to Pres. Joe Biden's speech and discussed the effects the pandemic has had on small businesses and how the government's Paycheck Protection Program (PPP) helped Denizens survive.
Denizens, which opened in 2014, was doing fine when the pandemic hit and it was shut down, recalled Verretti, who currently is Associate Administrator of Field Operations for the U.S. Small Business Administration.
"Then COVID hit, and we lost our stride," she told Van Hollen. The brewery switched to home delivery and used the PPP to struggle through, she said, noting that PPP "absolutely saved us." Without it, "We may have had to shut down."
Denizens received $448,000 from the PPP.
"The pandemic has brought enormous hardship and loss, but throughout, so many Marylanders have shown extraordinary resilience – including small business owners like Julie. People like her are the true drivers of our ongoing recovery, and I'm proud to highlight her story as my virtual guest to President Biden's first State of the Union address," Van Hollen said in a news release.
"I'm committed to working together to continue supporting our small businesses, workers, families, seniors, and more as we build back from this pandemic," Van Hollen said when he announced he was inviting Verretti as his guest, which all U.S. senators are invited to do.
Here is what Verratti told Sen. Van Hollen about business during the pandemic.
Here is the entire conversation.
For this year's #SOTU, I'm highlighting MD small business owner Julie Verratti, co-owner & founder of @DenizensBrewing as my virtual guest. Watch LIVE as I speak to Julie about the challenges COVID posed for her small biz & how she was able to stay afloat. https://t.co/KGZMa6zat7

— Senator Chris Van Hollen (@ChrisVanHollen) March 1, 2022
Related Post
Denizens Brewing Cofounder Named to U.S. Small Business Administration