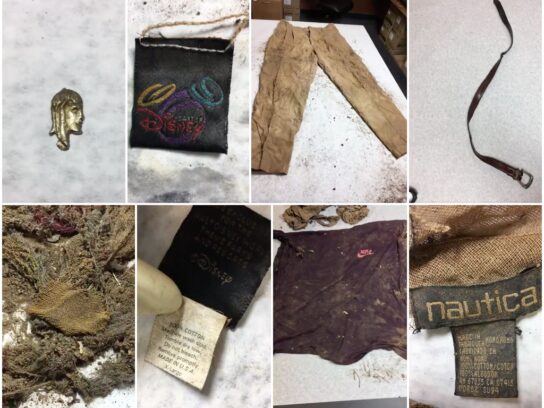 Cold Case Unit detectives from Montgomery County Police Department have released several photographs of items that were found buried in a Silver Spring park in late summer 2019.
In a statement released Wednesday, police said that the items were found buried in Nolte Local Park, located at 200 Denver Road. Police described the situation "suspicious" and said that park personnel called after they discovered the items in a small section of the park. Park personnel told police the items looked like they were recently dug up and re-covered with dirt.
Police released a video, which shows photographs of all of the items investigators unearthed during the preliminary investigation:
Some of the items investigators discovered include clothing dating back to the 1990s. Police believe the clothes might belong to "various individuals." The items found appear to have been buried in the park several years, but detectives believe the hole they had been buried in was disturbed recently.
Detectives are continuing to investigate the situation and identify the owner (or owners) of the items found buried in the park. Police urge anyone who may have seen suspicious activity in Nolte Local Park to contact investigators at 240-773-5081.