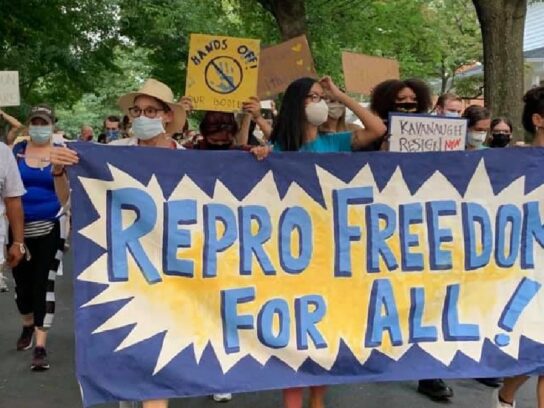 "There has been a real uptick" in people calling the Potomac Family Planning Center following the U.S. Supreme Court's ruling to overturn Roe v. Wade, said Allie Harper, executive administrator. "Right now, we are facing an overload of patients."
People are calling and coming in from neighboring states and as far as Texas, Harper said Thursday during a webinar on abortion access in Montgomery County that was led by Councilmember Hans Riemer.
Harper is concerned that her center won't be able to handle the additional requests. "We can't just hire staff to work the next day. They require a lot of training," she said.
Dr. Andrea Desai, a practicing physician and assistant professor of obstetrics, gynecology and reproductive sciences at the University of Maryland Medical School, said the court's ruling "threatens the basis of the medical service we can offer. It feels like a slippery slope."
She worries that doctors in some states will be too scared to be involved with miscarriages, high risk pregnancies and other significant pregnancy-related medical issues. Some states may stop training medical residents on how to deal with such issues as ectopic pregnancies and septic shock in pregnancies, she said.
"We are going to see women die," she said during the hour-long webinar. "It's going to make medical care worse. We are going to see worse outcomes."
In Maryland, women have access to abortion. There are laws allowing clinicians, not just doctors, to perform abortions and compel insurance companies to cover them without deductibles and copays, explained Maryland Del. Ariana Kelly, who represents Chevy Chase, Bethesda and Potomac.
"We need to protect our healthcare heroes. We are going to have their backs," Kelly said.
Also speaking during the webinar was Diana Simpson, who has been volunteering on a helpline for six years. "The call volume is higher" since the court ruling, she said.
Volunteering is very rewarding, especially at a time when "it can be so easy to be powerless," she noted.
Dr Raymond Crowel, Montgomery County Health and Human Services director, said he was "old enough" to remember back alley abortions before Roe v Wade was enacted. He said of the afternoon's webinar, "It is timely and incredibly important in what I regard as one of the most painful moments in the country's history."
Crowel expressed concern that birth control could become illegal next, and said it will be the poor who will suffer the most when they can't afford to travel and pay the necessary expenses.
Riemer, County Executive Marc Elrich and businesman David Blair, who are running on the Democratic ticket for county executive, have all come out in favor of protecting abortion access.
We will protect abortion rights in Montgomery County and must also act to ensure that we are a "safe haven" for people traveling here to seek care.

Here's the action I plan to take now and what I will do if elected County Executive.https://t.co/hPx3LwsSQT

— Hans Riemer (@hansriemer) June 30, 2022