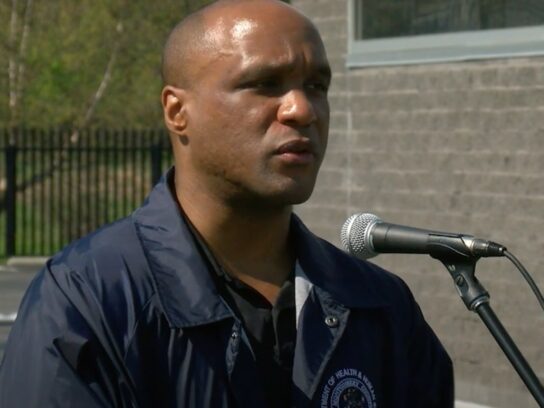 Montgomery County Health Officer Dr. Travis Gayles was interviewed on the latest "60 Minutes" episode that aired Sunday on CBS.
While at Richard Montgomery High School's vaccine clinic, Gayles told correspondent Bill Whitaker and a a national audience he was "extremely frustrated and exhausted," because Montgomery County is receiving so few doses of the COVID-19 vaccine while so many people are eligible and trying to get vaccinated.
Also appearing were the Vaccine Hunters, Las Caza Vacunas, who are a group of Montgomery County Public School teachers who have helped hundreds of senior adults obtain their vaccine appointments.
So proud of these women, whose work was showcased tonight on @60Minutes https://t.co/IgaVSUKqGU pic.twitter.com/HeWdZFYFWv

— Evan Glass (@EvanMGlass) March 1, 2021
.@ricepolitics Dr. Travis Gayles @MoCoDHHS
told #60Minutes Correspondent, Bill Whitaker, @BillWhitakerCBS that demand for vaccines #MoCo far outstrips supply #Maryland We have the infrastructure & capacity, we simply need more doses. #weneedmoredoses https://t.co/XtB1qykjIZ pic.twitter.com/hSE5obgg4H

— Craig Rice (@RicePolitics) March 1, 2021