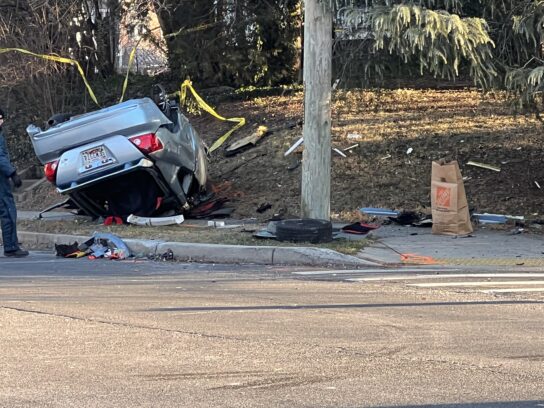 Darlin Ryes Gomez, 22, was ejected from a car and pronounced dead following a single vehicle crash in the area of Piney Branch Road and Sligo Avenue in Silver Spring on Dec. 23.
According to Montgomery County Police, Gomez was driving a silver 2007 Scion TC with two passengers and was headed eastbound on Sligo Avenue at 4:27 a.m. when Gomez, of Laurel, drove across the westbound lane, overturned, crossed the intersection and struck a pole on the east side of Piney Branch Road.
Two adult male passengers were taken to area hospitals with non-life-threatening injuries, according to police.
Anyone with information about this crash is asked to contact police at 240-773-6620.
Photo Courtesy of MCM reader
Per @mcpnews Darlin Reyes Gomez, 22, was killed on 12/23 ~4:27 am in a single-vehicle crash at Piney Branch Rd/320 & Sligo Ave in Silver Spring. He was driving a 2007 Scion TC. 2 passengers were injured.

The 27th car occupant & 49th road death in 2022. https://t.co/EdylcsNn6w

— Action Committee for Transit @actfortransit (@actfortransit) December 25, 2022
Detectives Investigate Piney Branch Rd. Fatal Collisionhttps://t.co/fB2E5SV8Nz#mcpnews pic.twitter.com/c8BQS8Cif0

— Montgomery County Department of Police (@mcpnews) December 25, 2022