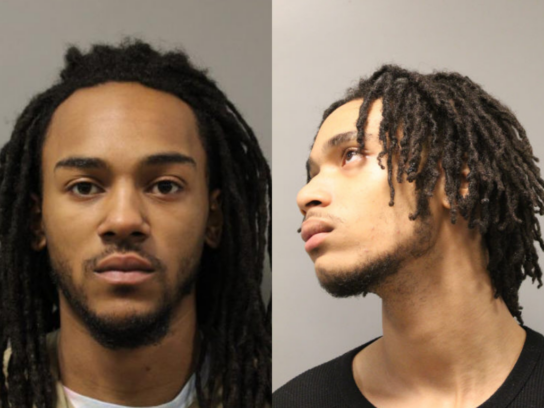 Two men stopped near Layhill Road last week to help another driver change a flat tire on what was later determined to be a stolen car — and the man they were assisting took and wrecked their own vehicle in the process, according to Montgomery County police.
Around 12:20 a.m. on March 10, police said, 21-year-old Bowie resident Shamari J. Reid and a friend drove down Layhill Road near Longmead Crossing Drive when they saw Tykel Wilson, a 19-year-old from Washington, trying to change a flat tire on a Mitsubishi Lancer. 
Reid's friend, who was driving, stopped his Toyota RAV4 to offer Wilson assistance, according to the police department. As the two men helped change the tire, Wilson stole their RAV4. 
The two men ran after Wilson as he drove their car in reverse, police said. Wilson hit a curb, rendering the RAV4 inoperable.
Officers were on their way to respond to a call in the area when they heard what sounded like a car crash, the department said. They found Wilson, Reid and his friend standing outside the wrecked vehicle.
When officers found the Lancer, they determined it had been stolen from Prince George's County.
Police say Wilson told them that Reid pointed a handgun and threatened him after he crashed the RAV4. Officers found a loaded handgun that Reid threw into the woods when police arrived at the scene, the department said.
Driver of Stolen Vehicle with Flat Tire on Layhill Road Helped by Passing Motorist; Driver Then Steals Motorist's Vehicle and Crashes: https://t.co/DgDC3lhnnY pic.twitter.com/b6J5sGZ4QW

— Montgomery County Department of Police (@mcpnews) March 15, 2021
Wilson had an active warrant for his arrest from D.C., police determined, and Reid had an active warrant in Worcester County, Md.
Reid was arrested and charged with illegal possession of a handgun. He was released from the Central Processing Unit after posting a $5,000 bond. His friend isn't being identified because he wasn't charged with a crime in connection with the incident, according to police.
Wilson was charged with motor vehicle theft offenses and released on a $3,000 bond.