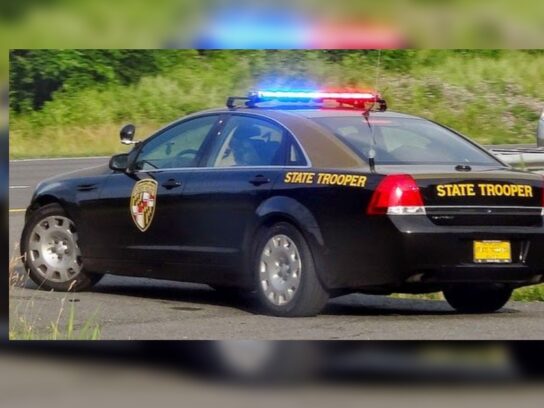 A suspected impaired driver was fatally shot on Friday morning after dragging a Maryland State Police trooper more than two thousand feet along I-95 while attempting to flee a traffic stop in Howard County.
According to authorities, the deceased driver is a Hispanic male who has not been identified yet because he did not have an ID. He was pronounced dead on the scene.
The trooper is a three-year veteran who is assigned to the Waterloo Barrack. He is being treated at the University of Maryland R. Adams Cowley Shock Trauma Center, according to MSP officials. The status of his condition has not been released yet.
A preliminary investigation revealed that the trooper initiated a traffic stop and called for back-up after observing a red Ford Escape weaving across multiple lanes of I-95 northbound shortly after 2:00 a.m. in Elkridge.
Troopers say the driver showed obvious signs of impairment and refused to exit and put the vehicle in drive. As the trooper reached into the car in an attempt to remove the keys from the ignition, the suspect accelerated and dragged the trooper down the interstate.
Maryland State Police say the driver refused to adhere to the demand to stop. Fearing for his life while being dragged by the vehicle, the trooper shot the driver and was thrown from the car into the center median. He was found close to where the vehicle came to rest.
"Troopers observed multiple alcohol containers inside the vehicle, and a machete was under the driver's seat within his reach," said Maryland State Police in a press release.
The MSP Homicide Unit is investigating the trooper-involved shooting. The MSP Internal Affairs Division will also conduct an investigation. Both troopers at the scene have been placed on administrative leave as the investigation continues. Upon completion, the investigation will be submitted to the Howard County State's Attorney's Office for review.
Due to the extensive area of the scene along northbound I-95, authorities say Friday morning traffic had to be diverted around the area. The investigation is on-going.
Preliminary information concerning the trooper-involved fatal shooting on I-95 in Howard Co. early today is available at https://t.co/C9qUdBLtqQ
I-95 NB remains closed from Rt 100 to Balto Co line. Traffic being diverted onto Rt 100. SB I-95 remains open. #MDTraffic

— MD State Police (@MDSP) August 28, 2020