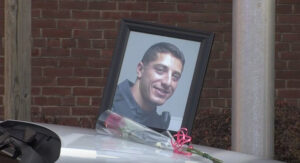 The Olney drunk driver who pled guilty to vehicular manslaughter in the tragic death of 24-year-old Montgomery County Police Officer Noah Leotta was released from prison Friday, after only serving slightly more than half of his 10-year sentence.
A spokesperson at Maryland Correctional Training Center in Hagerstown told MyMCM, "Yes, he has already been released."
Leotta was part of Montgomery County Police Department's annual Holiday Alcohol Task Force when he was conducting a traffic stop Dec. 3 on Rockville Pike. According to police, the young officer was struck and killed after being hit by a 2012 Honda CRV that was driven by Luis Gustavo Reluzco, 47. Leotta suffered a serious head injury. He was transported to Suburban Hospital in Bethesda, where he remained in a coma. With no improvement after a week, the family decided to take Leotta, who had graduated from Sherwood High School in Sandy Spring and Montgomery College, off life support.
His father, Richard Leotta, called Reluzco's early release on good behavior "reprehensible," but added, "I recognize another day in jail is never going to bring Noah back to me. That's never going to change."
About two years ago, Leotta attended Reluzco's parole hearing and came away with the strong belief that the man who took his son's life "felt remorse for himself, not for what he did." Added Leotta, "I don't believe he's sorry."
At that time, Reluzco partially blamed his behavior on the court system's leniency for allowing him not to serve time for the previous two incidents in which he was arrested for drunk driving.
Now that he is free, "He needs to show that he is going to be a good citizen" and also do something to honor Noah Leotta's name, his father said.
Leotta told MyMCM, "Truthfully, I'd like to get to a point where I could forgive him," but for now at least, he doesn't believe Reluzco deserves forgiveness.
When notified that Reluzco was to be released, Leotta asked the court to mandate that Reluzco have an interlock on his vehicle that would not allow him to drive if he was drunk. He also asked that Reluzco, who was a bartender at the time of the crash, not be allowed to work in that industry. Neither of Leotta's requests were accepted, he said.
Leotta has been active on the state and federal level to adopt measures that would help reduce drunk driving. He currently is working with Mothers Against Drunk Drivers to convince the U.S. Congress to adopt the Halt Act, as it is known in the House of Representatives, and the RIDE Act, as it is known in the Senate. Those bills are designed to mandate that all new cars are equipped with advanced drunk driving detection technology.
In 2016, Gov. Larry Hogan signed Noah's Law, which expanded the use of an interlock ignition device for drunk drivers.
According to Leotta, his son might still be alive if cars had advanced technology to prevent drunk drivers from operating their vehicles. He also believes that fewer police officers would be needed to patrol roads for drunk drivers.
According to the U.S. Department of Transportation's National Highway Traffic Safety Administration, about 28 people die in drunk driving crashes daily in the United States. That is equivalent to one person every 52 minutes.
Related Post