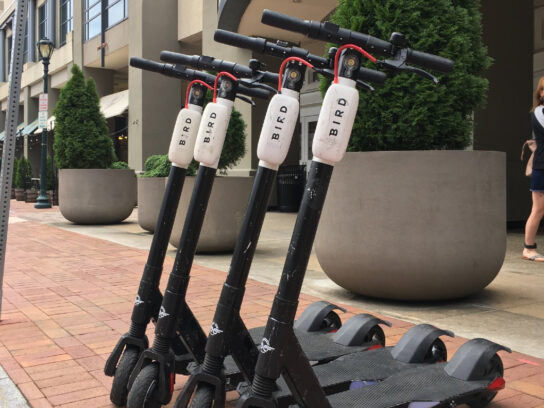 The Montgomery County Department of Transportation (MCDOT) has brought e-scooter service to Germantown after the inclusion of Gaithersburg earlier this year, according to a Montgomery County press release. The dockless e-scooter program was first introduced to the county in June of 2019.
Currently, there are three dockless e-scooter providers operating in the county which are Bird, Lime and Spin. MCDOT has a Memorandum of Understanding with all three to allow them to operate in designated areas.
In early December, Bird scooters started operating in Germantown and can be used through downloading the Bird app. Riders can use the app to check pricing, locate scooters nearby, review safety videos and learn where to park.
The rules for riding the e-scooters are:
You must be 18 or older to rent an e-scooter
You must show a valid driver's license
E-scooters can only be parked within the specified east and west geographic areas
Riders will not be able to end their trip outside the service area
The speed limit for e-scooters is 15 mph
The e-scooters must be parked in the public right of way and cannot interfere with traffic operations, block driveway access, crosswalks, ADA ramps, pedestrian access, bus stops, fire hydrants or impede access to private properties or businesses
MCDOT has previously hosted e-scooter training and safety clinics for residents who are 18 and older. Those classes will continue in the spring of 2022.
"E-scooters provide a first mile/last mile transit option for area travelers and enable residents to conveniently navigate short distances without using single-occupancy vehicles," said MCDOT Director Chris Conklin. "Since 2019, over 200,000 e-scooter trips have been taken within Montgomery County."
In the press release, County Executive Marc Elrich also attributes the e-scooters to helping with reaching the county's climate action goals by decreasing the use of automobiles while providing county residents with more public transportation options.
MCDOT encourages riders to wear a helmet at all times when using the e-scooters and to download the Bird app to use Bird scooters, which can be found here. For more information on alternative travel options, visit the MCDOT website.