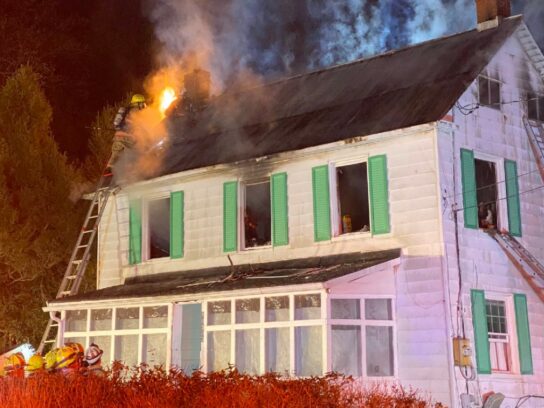 A fire ravaged through a Sandy Spring home on Monday around 4:30 a.m. Officials with Montgomery County Fire and Rescue Services say there were two people inside at the time, but they got out in time and had no injuries.
About 75 firefighters responded to the home on the 18500 block of Brooke Road near New Hampshire Avenue not too far away from the Ross Boddy Neighborhood Recreation Center.
Officials say the fire likely started on the second floor of the home and extended through the walls, then spread to the attic area.  The blaze caused more than $200 thousand in damages.
The exact cause of the fire is still under investigation, but officials say it is possibly electrical related.
MCFRS spokesperson Pete Piringer says the occupants reported that they plugged in a space heater in the second floor bathroom and then they saw fire.
At one point, Brooke Road was closed and blocked between Chandlee Mill Road and Celebrity Lane, but it is back open now. 
Update – (430a 3/2) 18583 Brooke Rd, Sandy Spring; Cause, electrical in nature, outlet; Area of Origin, 2nd floor bathroom; fire extended in walls; Damage, total >$260K, incl $150K structure, $110K contents; 1 family (2 adults) displaced; no injury pic.twitter.com/SGdulCEPqd

— Pete Piringer (@mcfrsPIO) March 2, 2020
Update – 18583 Brooke Rd, Sandy Spring, 2-story ballon-frame SFD, non-hydrant Area, fire out, fire in attic/roof & walls on 2nd floor, 2 occupants got out, no injury, >85 FFs on scene pic.twitter.com/6bwSXxwvcF

— Pete Piringer (@mcfrsPIO) March 2, 2020
(~430a 3/2) 18500blk Brooke Rd, Sandy Spring, house fire https://t.co/Vsaj59uqxT

— Pete Piringer (@mcfrsPIO) March 2, 2020