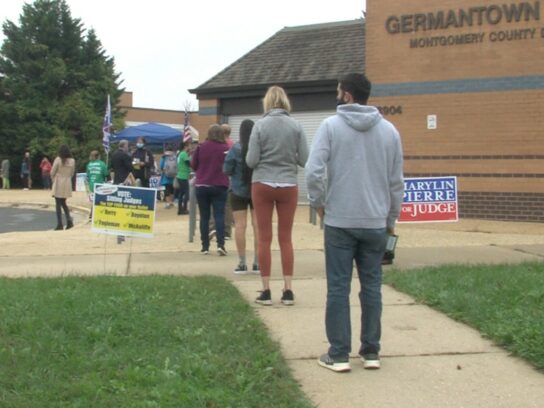 More than 19,000 Montgomery County residents early-voted on Day 3 as of 6 p.m. Wednesday.
The Montgomery County Board of Elections reported the unofficial vote count is 19,003. About 2,500 early votes had been cast at the Germantown Recreation Center as of 6 p.m. Wednesday and almost 600 had already been cast as of 10 a.m.
As the line stayed steady throughout the late morning, MyMCMedia spoke to county residents about their experiences around this unique election.
In the state of Maryland, the unofficial count for Wednesday is 159,426.
On Monday, the first day of early voting in Maryland, more than 161,000 residents cast their ballots. The state board said that breaks the state's previous single-day early voting record of 143,494, which was on the last day for early voting in 2016. On Tuesday the board reported 153,493 Marylanders voted that day as of 8 p.m.
The county Board of Elections said 24,359 Montgomery residents early-voted on Monday and 22,604 voted on Tuesday. These numbers are unofficial according to the board.
Unofficial Early Voting Day 2 Turnout:
Bohrer Park: 3,241
G'town: 3,079
Wheaton Library: 2,704
Potomac: 2,636
Lawton: 2,133
SS Civic: 2,003
Praisner: 1,650
Damascus: 1,404
Sandy Spring: 1,392
EOB: 1,191
MidCounty: 1,171
Total votes (Day 2): 22,604
Cumulative (Day 1-2): 46,963 pic.twitter.com/websi4ocW8

— MontgomeryMDVotes (@777Vote) October 28, 2020