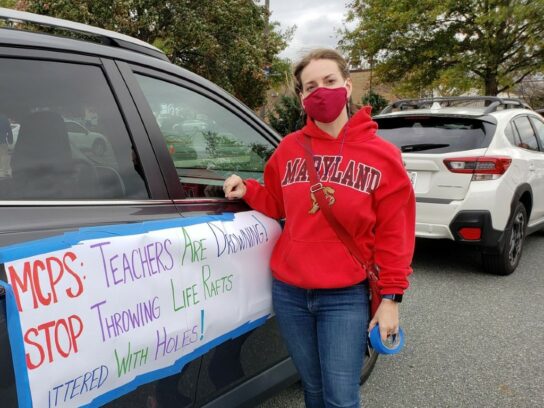 Montgomery County Education Association President Jennifer Martin stressed, "We want to be teaching in person. We know that is what is best for students," adding, "But we also know we are truly in a health emergency."
Martin spoke to MyMCM Thursday afternoon about teacher morale, the Omicron variant of COVID-19 and the need for self-testing.
Eleven of the district's schools are in a 14-day quarantine, and about another 126 schools are in the red area and could move to virtual teaching soon. Schools in the red have at least 5% of students and staff testing positive for COVID-19.
"That's more than half our schools," Martin said. MCPS has 209 schools. Here is the color-coded chart for all schools.
There are some schools listed in red that currently have a higher rate of staff and students with COVID-19 than at schools already designated as virtual only, according to Martin.
Teachers are dealing with a lot of frustration due to "a lack of a clear plan" from the administration on how to deal with the ever-increasing spread of the virus and an inadequate number of staff to cover all the classes and cafeteria duties due to high absenteeism and vacancies, Martin said.
Teacher morale "is continuing to take a dive," she said.
MCEA would have preferred that the school district make sure that everyone at each school have a COVID-19 test before entering the building. MCPS has received 100,000 test kids, each with two tests inside.
As it stands now, teachers are telling her that students have symptoms and are waiting to come to school and go to the health rooms for a test. "That is not a good plan. You don't want to have sick kids in the building," she said.
"I think the great resignation is very possibly coming" at the end of this school year when the current teacher contracts end, Martin said.
"We want to be with your children. That's what we signed up for. We are dedicated professionals," Martin said. However, she stressed, "We are truly in a health emergency."
Here is what Martin told MyMCM.
Related Post
MCPS Transportation Woes Continue; More Schools Near Threshold for Virtual Learning