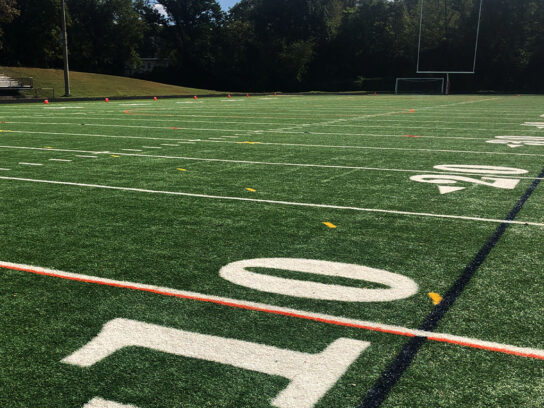 Albert Einstein High School's slogan is "The place to be." That was certainly the case Friday morning.
There were football players, a marching band, cheerleaders, poms and Einstein's entire student population. No, there wasn't a football game being played at the Kensington school. Instead, it was a pep rally and ribbon cutting to show off the school's new artificial turf football field.
https://www.instagram.com/p/B3NWAVaB-yQ/
17 months ago, the Montgomery County school board approved the turf field project in partnership with MSI (Montgomery Soccer, Inc).
Support for the project was split. Those in favor pointed to the difficulty of maintaining a natural grass field and argued that an artificial turf field would give more athletes the opportunity to play and practice more often. Detractors decried the mineral substance used to fill the spaces between the synthetic fibers of the artificial turf which may lead to several health hazards including cancer.
Montgomery County Councilmember Hans Reimer, who helped push the project through, was on hand to help lead the cheers. He told MCM that the project was "quite controversial" and that there were "a lot of obstacles but the community kept fighting" to get the artificial field done.
Einstein's football team will break in the new field Friday evening in a game against Blair.