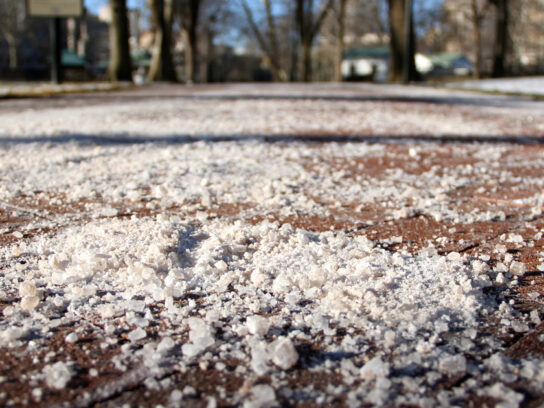 Los funcionarios del condado y el servicio de agua WSSC recomiendan que los residentes a que sean "prudentes con la sal" este invierno. Significa usar menos sal en las entradas y aceras durante las tormentas invernales, debido a los riesgos ambientales. Los riesgos incluyen el desembarco de sal en los desagües pluviales y arroyos. Las fuentes de agua como los ríos Patuxent y Potomac también pueden verse afectadas por la sal. Estas fuentes de agua proporcionan agua a 1,8 millones de personas en los condados de Montgomery y Prince George.
La sal también puede dañar el hormigón, las plantas, el césped, y  puede hacer daño a las mascotas. "Queremos que los propietarios comprendan que el exceso de sal no hace que las aceras y los caminos de entrada sean más seguros, sino que pone nuestro ecosistema de agua en un mayor riesgo de daño a largo plazo", dijo el ejecutivo del condado Marc Elrich.
Los niveles de sal han aumentado en los arroyos locales y ahora representan riesgos para las fuentes de agua y los animales que viven en el área. "Durante los últimos 30 años, hemos visto un aumento dramático en los niveles de sal en los ríos Potomac y Patuxent", dijo la Gerente General y Directora Ejecutiva de WSSC Water, Carla A. Reid.
How can you be #SaltWise this winter?

◾️ Shovel ice and snow early and often.
◾️ Use one 12-ounce cup of salt for 10 sidewalk squares or for a 20-foot driveway.
◾️ After storm events, sweep up excess salt for reuse.

Learn more ➡️ https://t.co/FNy9vHZlfG. pic.twitter.com/k3OqHHCts9

— Montgomery County MD (@MontgomeryCoMD) December 9, 2021
el Departamento de Transporte del condado de Montgomery aconseja a los residentes a que llamen al 311 si ven grandes pilas de sal en el condado.
Haga clic aquí para obtener más información sobre el uso de la sal.