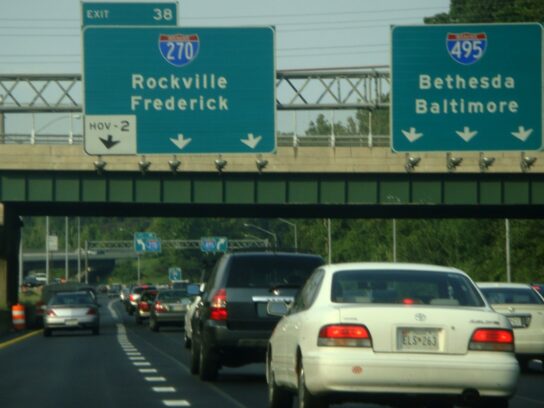 La Junta de la Autoridad de Transporte de Maryland aprobó por unanimidad varias medidas que allanan el camino para una asociación público-privada que ampliará y agregará carriles de peaje en la I-495, desde el puente American Legion hasta Old Georgetown Road y en la I-270 hasta la I -370.
No se aprobó ningún trabajo de construcción, en cambio, la junta aprobó un proceso de pre desarrollo y comenzó un período de 30 días de revisión pública y legislativa. La aprobación del proyecto está condicionada a un voto positivo de la Junta de Obras Públicas de Maryland, que se espera para julio.
La aprobación de la junta para el trabajo previo es para la Fase 1 del proyecto, que no incluye el trabajo en la I-495 más allá de la I-270 hacia el este a través de Chevy Chase y Silver Spring.
En la Fase 1, el Puente American Legion, que fue inaugurado en 1962, será reemplazado incluidos carriles para bicicletas. Se planean cuatro carriles de peaje de alta ocupación, dos en cada dirección. No se cobrará peaje a los autobuses y vehículos compartidos.
En febrero, el estado eligió Accelerate Maryland Partners para supervisar el trabajo previo al desarrollo. AM Partners es una empresa conjunta con Transurban y Macquarie Capital como desarrollador principal de proyectos y miembros de capital.
Capital Express Mobility Partners protestó contra la decisión de la junta y presentó una apelación. No se ha fijado una fecha para la audiencia de dicha apelación, pero Jeffrey Folden, subdirector del proyecto del Departamento de Transporte de Maryland, dijo a la junta que la apelación está llena de "acusaciones inexactas". Aconsejó a los miembros de la junta que continúen con su trabajo y no esperen a que se escuche esa apelación.
Folden también le dijo a la junta que alrededor del 90% del tráfico ha regresado a estas carreteras y que el tráfico "se ha recuperado en gran medida".
Deborah Sharpless, directora financiera de la Autoridad de Transporte del Estado de Maryland, informó a los miembros de la junta que el proyecto tenía poco riesgo para el estado, ya que la principal responsabilidad de Maryland es cobrar los peajes y luego pagar a quien desarrolle el proyecto con ese dinero. "Nuestros riesgos son muy bajos, porque esto es en lo que somos buenos", dijo.
Si el volumen de tráfico disminuye considerablemente, solo perjudicará a quienes desarrollan el proyecto, dijo. "Ese riesgo está en ellos. No hay garantía sobre una cierta cantidad de ingresos".
Los opositores al proyecto han instado a la junta a completar todas las revisiones ambientales antes de votar. Una vez que el proyecto se redujo en fases, se deberían haber realizado nuevos estudios, dijo Arthur Katz de Citizens Against Beltway Expansion. Instó a la junta a aprender primero cómo el proyecto afectaría a las comunidades de color y el calentamiento global y si el aumento del teletrabajo ha disminuido la necesidad.
"¿Por qué apresurar este contrato?" preguntó.
Edgar González, director ejecutivo de Suburban Maryland Transportation Alliance, instó a la junta a proceder ya que ayudará a aliviar el tráfico en "uno de los segmentos más congestionados" de carreteras del estado, dijo. Llamó a los oponentes del proyecto "los mismos oponentes durante 50 años que se han opuesto a todos los proyectos de carreteras en el condado de Montgomery".
González fue ingeniero jefe de transporte y subdirector del Departamento de Transporte del Condado de Montgomery durante 30 años.
Elected officials from Montgomery, Frederick & Prince George's Counties with MTOC's @BenRossTransit & @GaryVHodge1 at today's "Stop the P3 Boondoggle" rally pic.twitter.com/nXbJ4vUakM

— MTOC (@TransitforMD) June 8, 2021
Aproximadamente tres horas después de que la junta votara, el ejecutivo del condado de Montgomery Marc Elrich, el presidente del concejo Tom Hucker, el senador de Maryland Will Smith, la alcaldesa de Rockville Bridget Newton y miembros de varias organizaciones opuestas se reunieron en la Primera Iglesia Bautista de Rockville para una manifestación, a la que asistieron unas 150 personas.
Elrich calificó los planes de "irresponsables y están completamente equivocados". Instó al estado a incluir opciones ferroviarias y a solicitar a la Administración Biden que incluya el Puente de la Legión Americana en sus planes de infraestructura.
En una declaración, Jamie Raskin congresista del 8vo Distrito, quien no asistió a la manifestación, dijo que el proyecto afectaría negativamente "nuestra tierra y nuestra agua por generaciones". Se preguntó por qué un proyecto tan grande que recientemente había cambiado de alcance necesitaba estar "tan atascado". También se preguntó por qué no se hicieron públicas las nuevas cifras financieras ahora que los planes no incluyen partes de la I-495.
Linda Rosendorf de DontWiden270 escribió en un comunicado de prensa: "Este es un plan de atascos de tráfico, no un plan de alivio de tráfico". Añadió: "Siete carriles de tráfico en la I-270 se fusionarán en dos carriles al norte de Shady Grove. Los retrocesos en las uniones serán incluso peores de lo que son ahora".
Democracy at work at today's "Stop the P3 Toll Lane Boondoggle" rally while the MDTA Board rubber-stamped a contract that could put Maryland's transportation policy in the hands of private profiteers for 50 years pic.twitter.com/rO0kLko138

— MTOC (@TransitforMD) June 8, 2021