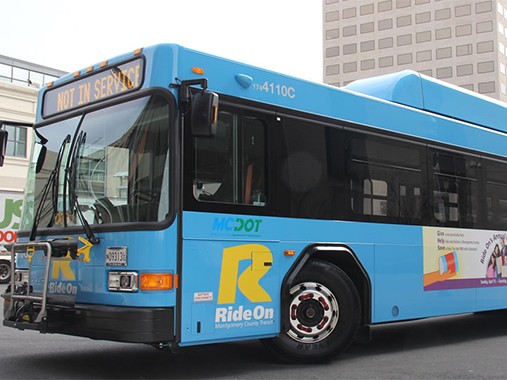 Montgomery County's first electric Ride On buses will make their official debut Thursday morning at 10 a.m. in Rockville.
The four electric buses will be unplugged and displayed at the David F. Bone Equipment Maintenance and Transit Operations Center, 16700 Crabbs Branch Way.
Executive Marc Elrich, Council President Sidney Katz, Council Vice President Tom Hucker, County Department of General Services Director David Dise and County Department of Transportation Director Chris Conklin are expected to attend the Sept. 3 event.
The electric, zero-emission buses can run all day on a single charge.
In September 2017, the county was awarded $1.75 million from the Federal Transit Administration Low or No Emission Competitive program to purchase four electric buses and charging stations.
When the grant was first announced, former County Executive Ike Leggett, said, "I am grateful for the generous support from the Federal Transit Administration to fund purchase of Montgomery County's first zero-emission buses and charging stations. This represents an important expansion of Montgomery County's healthy and sustainable communities initiative."
Thursday at 10 a.m., Montgomery County Executive Elrich, Council President @MC_Council_Katz & Council Vice President @CmHucker to rollout first four electric Ride On buses https://t.co/x6x2I2w2AN pic.twitter.com/NggqMeFd6l

— Montgomery Council (@MoCoCouncilMD) September 2, 2020