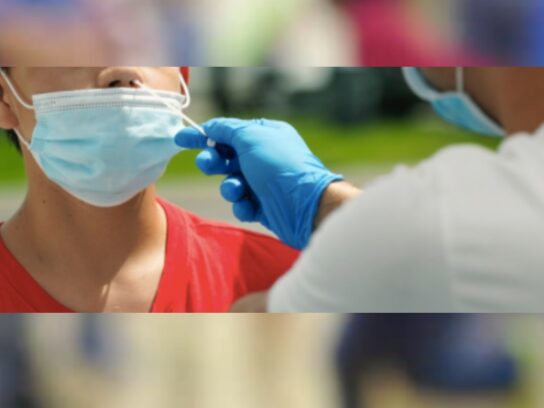 11 of the 209 Montgomery County Public Schools will not return to the classroom Wednesday for at least 14 calendar days due to a student and staff rate of positive COVID-19 cases of at least five percent, Interim Superintendent Monifa McKnight announced in an early morning news briefing.
These schools are Seneca Valley High School, Rock Terrace School, Cannon Road Elementary School, North Chevy Chase Elementary School, Hallie Wells Middle School, Monocacy Elementary School, Roberto Clemente Middle School, Forest Knolls Elementary School, Waters Landing Elementary School, Rosemont Elementary School, and Sherwood Elementary School.
On Wednesday only, students in those 11 schools will receive asynchronous teaching as students and staff transition to virtual learning. The rest of the virtual learning period will be live instruction similar to a student's regular school day, but virtual.
These 11 schools are in the red area, meaning more than five percent of staff and students reported testing positive during a 14-day period. Schools in the yellow zone recorded positive test rates that were more than three percent but less than five percent. Currently, 89 MCPS schools are in the yellow.
Schools in the green have fewer than three percent of staff and students testing positive during a 14-day period.
Being in the red does not automatically mean that school will go virtual for 14 days, McKnight explained. MCPS staff will meet with Montgomery County Health and Human Services staff to discuss the fate of individual schools.
McKnight said MCPS is committed to using rapid testing on every student, beginning with those who attend schools designated as red and yellow.
The goal is to minimize the impact on learning as much as possible and keep students in school, McKnight said.
In order to keep the spread as low as possible, MCPS continues its mask mandate and will not allow spectators at sporting events.
Throughout the 35-minute news briefing, McKnight and other MCPS staff vowed to be transparent. The list of test positivity rates and whether the school is in the red, yellow or green areas will be posted on the MCPS website by 7 p.m. every night schools are in session.
As of the morning of Jan. 3, when students would have returned to school if there was not a snow day, 5,680 students and staff members reported testing positive for COVID-19 during the winter break. In the five days prior to the school winter vacation, 4,677 reported testing positive.
"We are concerned with the surge," McKnight said, noting it has an "acute impact on our workforce," particularly among teachers, bus drivers and cafeteria works. MCPS already was understaffed before COVID-19 forced staff to recover from the virus or quarantine, she said.
She urged anyone who is available to apply for an MCPS position or volunteer to help out.
McKnight addressed the fact that some families want their students in school while others are wary of sending them into buildings where they could become infected. "I understand that there are fears and concerns," she said, adding, "I do ask parents to trust us."
Students are not being helped by preventing them from attending school, she said. Closing all schools won't end the pandemic in a community, McKnight stressed.
Here is what MCPS and Montgomery County officials announced in the news briefing Jan. 4.