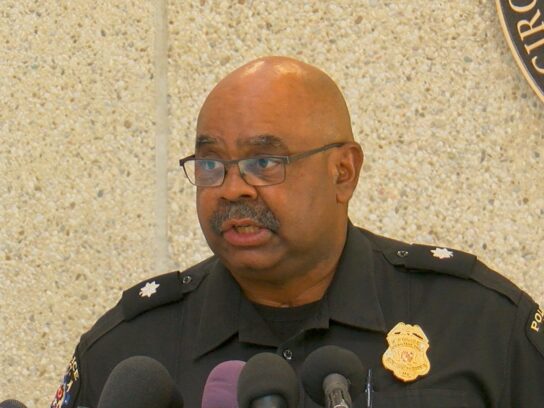 It's been almost two weeks since County Executive Marc Elrich made his announcement but Acting Police Chief Marcus Jones has not yet been officially nominated to fill the permanent position.
County spokesman Barry Hudson said that in "the very near future" Jones' name would be sent to the County Council, who has the ultimate decision.
"I know there's probably, with all employees, there needs to be a background check," Hudson said. "It's the same due diligence as someone from the outside before you send that package over."
Jones would follow Tom Manger who was police chief for 15 years. Russ Hamill served as acting chief before taking over as chief in Laurel. Jones followed Hamill.
The last time Montgomery County police promoted a chief from within its ranks was Carol Mehrling, who was chief from 1995 to 1999.
Councilmember Gabe Albornoz was in the MCM studios in Rockville and he had this to say about Jones:
Previous Posts:
UPDATE: Elrich Says He Will Nominate Marcus Jones for Police Chief
https://www.mymcmedia.org/tonya-chapman-out-new-police-chief-candidate-expected-this-week/
https://www.mymcmedia.org/elrich-says-he-was-looking-for-change-in-new-police-chief/
https://www.mymcmedia.org/search-for-new-police-chief-could-be-down-to-one/
https://www.mymcmedia.org/jones-out-as-police-chief-candidate/