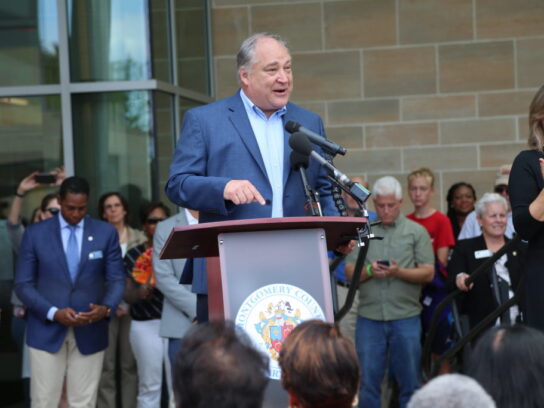 Several dozen people peppered County Executive Marc Elrich with questions Monday night about the state of roads, regional service centers and how Montgomery County is caring for its seniors.
Elrich met with the residents at the new Wheaton Library and Community Recreation Center to discuss the fiscal 2021 budget. On hand were also more than a dozen county staffers and members of the Mid-County Citizens Advisory Board.
After the session, Elrich said people have been feeling the lack of staff support at the regional service centers, where personnel was cut during the recession.
"People have been missing what the centers were able to do," he said. Their comments "confirmed these people still remember what we were doing before."
He said he would look at the regional service centers in his budget draft, which is due to be released in March 2020.
In his presentation, Elrich outlined seven budget priorities, which included early childhood education, more affordable housing, rapid transit, climate change, efforts to grow the economy, developing a 10-year strategic plan and meeting reserve targets.
Elrich said there was an "ROI" — return on investment — in reaching youngsters very early in their education. It costs less to teach them the younger they are, he said.
One resident, a member of the Commission on Aging, noted that seniors weren't included among the budget priorities. Seniors also have an ROI, she said, by preventing medical bills.
After the session, Elrich said the county needs to do a better job talking about them.
"I realize that people don't realize that's subsumed under other categories," he said.