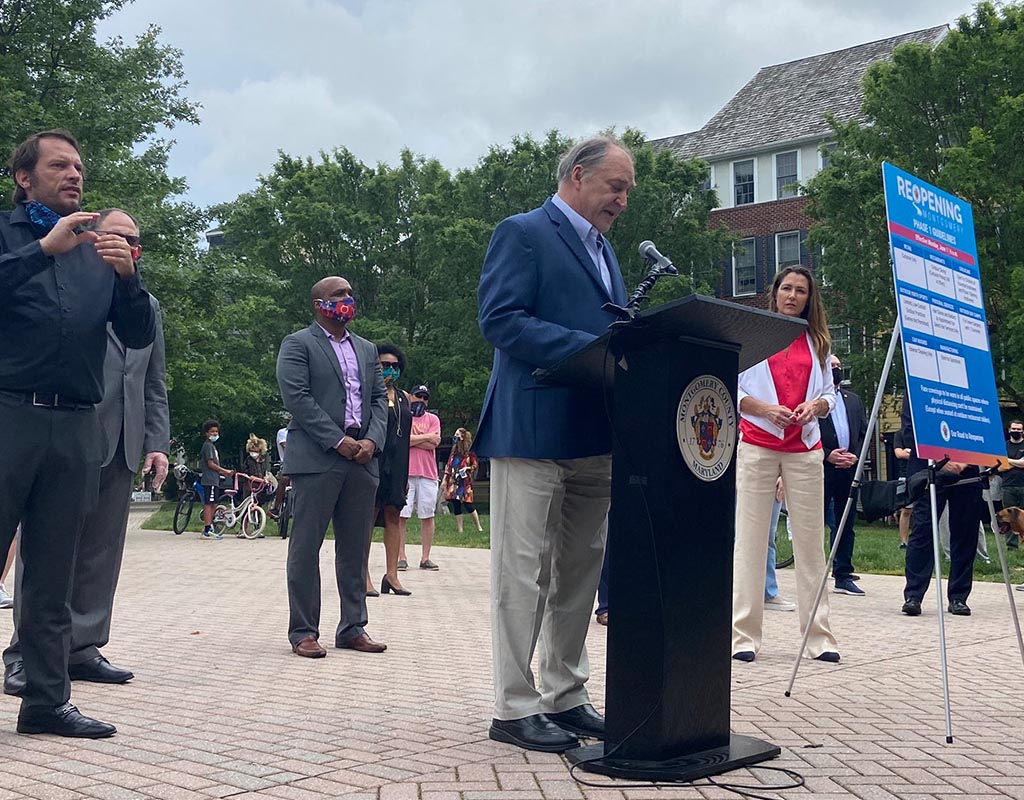 Elrich Heckled While Announcing County's Phase 1 Reopening on June 1
Amid a swarm of hecklers, County Executive Marc Elrich announced Phase 1 of Montgomery County's COVID-19 reopening plan will start 6 a.m. Monday.
Elrich said the following will remain closed until further notice: swimming pools, senior centers, fitness centers, movie theaters, shopping malls, and nail salons.
County Executive @Marc_Elrich announces Montgomery County's Phase 1 reopening will begin at 6 a.m. Monday, June 1. pic.twitter.com/XsRyXw47Vs

— Montgomery County MD (@MontgomeryCoMD) May 28, 2020
Starting Monday, the following businesses and activities can operated under modified guidelines:
Retail can open for curbside only.
Restaurants and bars can open and have outdoor seating available, in addition to curbside pickup.
In terms of childcare, state-approved emergency programs will be open for dependents of essential employees as well as employees from the Phase 1 reopening plan.
Personal services like hair salons and barber shops are open for appointments only.
Car washes can open only for exterior cleaning.
Manufacturing businesses can fully reopen, but with guidance and precautions.
Outdoor day camps can open, adhering to Maryland Department of Health guidelines.
Outdoor youth sports can open, adhering to Maryland Department of Health guidelines.
County Executive @Marc_Elrich and @MoCoDHHS' Dr. Travis Gayles today announced critical benchmarks to reduce the spread of #COVID19 have been achieved, allowing the County to begin a gradual reopening. Phase I will start at 6 a.m. Monday, June 1. Details: https://t.co/uTwjh1mHjt pic.twitter.com/9NMMBhM0PG

— Montgomery County MD (@MontgomeryCoMD) May 28, 2020
Elrich was frequently interrupted by protestors who were shouting obscenities. Here's a look at the full press conference:
Related Post: