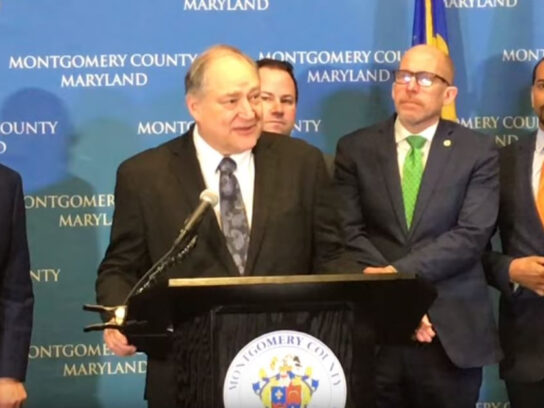 Montgomery County Executive Marc Elrich held a news conference this morning to relieve fears following Gov. Larry Hogan's announcement Thursday evening that three county residents had contracted the coronavirus. Elrich released the following statement Friday afternoon.
This morning I held a news conference with County Health Officer Dr. Travis Gayles and Office of Emergency Management and Homeland Security Director Earl Stoddard about the status of COVID-19 in Montgomery County. The State has confirmed three cases in Montgomery County. We were joined by our County Council President Sidney Katz, County Councilmembers and MCPS Superintendent Dr. Jack Smith. We want to keep you informed and prepared and to let you know that there is no reason to panic
It should be noted that the conditions of these three people is described as fair, and their health is improving.
We have been preparing for this possibility since January, and we take this seriously. I understand this is causing worry, but the health risk remains low and the safety of our residents, visitors and County employees is what is most important.
Governor Larry Hogan declared a state of emergency to ramp up Maryland's coordinated response across all levels of government. When an emergency is declared, it is the directive to increase government resources and ensure that the necessary elements are activated to provide for adequate assistance. This is necessary so that we can allocate assets to respond aggressively to address the situation.
Our frontline staff is trained, dedicated, and working hard to ensure that you have the information you need in a timely manner and that the information is accurate, thoughtful and comprehensive to address the concerns that everyone may have.
The three cases in Montgomery County are travel-related cases. They are specific to individuals who traveled overseas, and they are now quarantined in their homes.
This is different than community transmitted, which we have seen in cases in other jurisdictions. Community transmission means that the person did not have a history of travel.
We have been preparing for potential public health emergencies for a long time in Montgomery County. We have a dedicated public health response team in the Department of Health and Human Services, and a robust emergency management team and emergency management group.
Prevention steps are the best defense. Currently, there is not yet a vaccine for COVID-19. Prevention measures center on frequent handwashing, covering coughs and sneezes, and separating people who have respiratory symptoms.
The same steps taken to prevent the spread of flu and the common cold can help prevent COVID-19:
Stay away from people who are sick. If you are sick, stay home from work and school.
Do not travel if you are sick.
Wash your hands, wash your hands, wash your hands. Washing hands often with soap and water for at least 20 seconds is the best way to prevent the spread of this virus and many other illnesses.
Use an alcohol-based hand sanitizer if soap and water are not available.
Cover your mouth and nose with a tissue or your sleeve when coughing or sneezing.
Treatment for COVID-19, as with any coronavirus infection like the common cold, includes the use of over-the-counter fever-relievers, drinking plenty of fluids and resting at home to help relieve symptoms. Those with more severe symptoms may be hospitalized to provide additional support.
While much remains unknown about COVID-19, the CDC reports that people who are elderly and who have chronic health conditions appear to be at higher risk for infection. These chronic conditions may include cancer, diabetes, heart disease or any issue that lowers the body's immunity to germs.
For updated information, visit Montgomery County's COVID-19 website and the CDC COVID-19 website for more information and the latest updates.
Once again, we are prepared, and we take this seriously. I understand this is causing worry, but the health risk remains low and the health and safety of our residents, visitors and County employees are of the utmost importance. It is important that we each follow the established and proven prevention guidelines. We should feel confident in going about living our lives; and we are committed to providing updated information as this situation evolves.