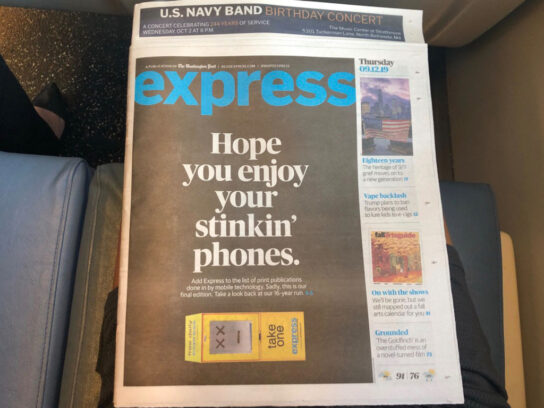 Express, The Washington Post's free daily newspaper for commuters and Metro riders, is closing Thursday. A farewell column will be published in its last paper that day, according to an article in The Washington Post. 
Express, commuter newspaper published by The Washington Post, shuts down after 16 years https://t.co/vqh1i9n7UZ

— The Washington Post (@washingtonpost) September 11, 2019
The paper was in circulation for 16 years. Express managers said the paper was losing money, and circulation fell to 130,000 people per day this year, according to an article in The Washington Post. At its peak in 2007, the paper was reaching 190,000 people per day.
Express featured national and world stories, as well as more local news. It was meant to be a fast read, with a mix of stories from The Washington Post and original stories by Express staff. There are 20 Express journalists, and they will all be laid off Thursday. 
https://www.instagram.com/p/B2UFGU8BRCn/
The Washington Post Newspaper Guild published a statement condemning the closing and layoffs. The Guild is a union representing more than 1,000 Washington Post employees, but not Express employees. The statement said that many Express staff members are young women, and did the same jobs as other newsroom staff, but for less pay.
"They were excluded from a union contract that would have protected them only by legal and bureaucratic fictions that labeled them a different entity within our company, though Post Express and The Washington Post are both owned by Jeff Bezos, the richest person in the world," the statement reads. 
The statement also said the 20 employees losing their jobs did not find out until Wednesday, one day before the paper's last publication. 

Here are some tweets from Express employees:
Hey I really, really loved working at @WaPoExpress for five months but tomorrow's issue will be our last. If you need an editor, particularly a sports editor, please get in touch.

— sarah (@thesarahkelly) September 11, 2019
https://twitter.com/SerenaEGolden/status/1171819741452939264?s=20
Personal news: I and rest of @WaPoExpress newsroom have just been laid off and Express is closing down after ~16 years. I'm copy chief and have been at Express 3½. Looking for a new #journalism job. https://t.co/o80g21yFhh

— Vanessa H. Larson (@vanessahlarson) September 11, 2019