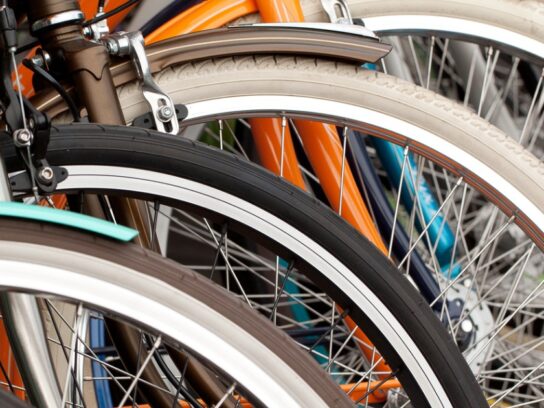 The family of the woman killed while riding her bicycle home from her son's elementary school in Bethesda Aug. 25 has set up a GoFundMe page to raise money to increase bike safety.
"I have created this account with an ambitious goal of $50,000 to help organizations already working on bike safety. I am doing this because I am furious about Sarah's death, and I am personally committed to ensuring our mission to increase bike safety is realized," wrote her husband, Daniel.
As of Monday afternoon, more than $43,000 has been raised.
Sarah Langenkamp, 42, was the mother of two young boys and a diplomat with the U.S. State Department for 17 years. According to her husband, the family recently moved to Bethesda after being evacuated from Ukraine. While there, Sarah Langenkamp was in charge of programs to help the country's anti-corruption institutions.
Sarah's sudden passing in 🇺🇸 was tragic. Her tireless work led to key anti-corruption reforms and to $185 million of assistance for 🇺🇦's police/border guards, saving lives and enabling 🇺🇦 to defend against 🇷🇺 aggression. She will be dearly missed by friends in 🇺🇸 and 🇺🇦. https://t.co/6NVruSu0R0 pic.twitter.com/6UtinmwFMz

— U.S. Embassy Kyiv (@USEmbassyKyiv) August 29, 2022
The day she was killed, Langenkamp had planned her bicycle route on her cell phone and rode on designated bike routes around the Washington-Bethesda Capitol Crescent Trail. A small part of her route was on River Road.
According to police, Langenkamp and the driver of a red 2014 Volvo D3 flatbed truck were traveling east on River Road. Langenkamp was in the bicycle lane when the driver of the Volvo turned right into a parking lot at 5244 River Road and struck Langenkamp, running her over, police said.
According to her husband, his wife has ridden her bike where ever she works, including the Ukraine, Côte d'Ivoire and America.
"Sarah did not need to show the world she was a successful professional, diplomat, leader, and role model. Her grace, intelligence, kindness, and deep commitment to promoting U.S. interests around the world was shown in her work and actions. To carry out this important mission, Sarah rode a bike — almost every day." Daniel Langenkamp wrote on the GoFundMe page.
Daniel Langenkamp expects to use the funds that are raised "to work with local and national cycling safety organizations to advocate for safer bike routes, including this particular stretch of road."
Communities "need to do more than paint lines and bike symbols on roads. Such bike lanes — lacking proper barriers, truck/auto driver education, laws, and law enforcement — are only death traps, luring innocent victims like Sarah toward them. They result in tragic deaths that leave children without parents and the world without its most talented and committed individuals. Cities should not boast of having "bike lanes" when bikers are needlessly and repeatedly killed on them, as they have been this year," wrote Daniel Langenkamp.
Sarah Langenkamp's husband has a GoFundMe for her. The goal is $50,000 to help organizations already working on bike safety.

She was killed on August 25, 2022, in a bike lane on River Rd/190 in Bethesda, riding home from their sons' new elementary school.https://t.co/GEHVY0ryF9

— Action Committee for Transit (@actfortransit) August 29, 2022
Related Post