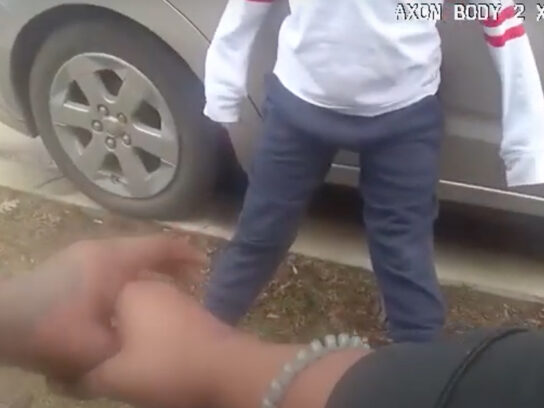 The family of the then five-year-old Silver Spring Elementary School kindergartener who was subjected to a barrage of verbal abuse from two Montgomery County police officers as school staff stood by received $275,000 from Montgomery County's Self-Insurance Fund.
The Office of the County Attorney for Montgomery County announced the settlement late Friday afternoon in the Jan. 14, 2020 incident.
The parties settled all claims from the incident, according to an email from the county attorney's office.
Of the $275,000 the family received, $220,000 of it was paid on behalf of Montgomery County Police Officers Dionne Holiday and Kevin Christmon, who were captured on video yelling at the boy repeatedly. The remaining $55,000 was paid on behalf of the Montgomery County Board of Education.
The agreement releases the parties from all other claims with no admission of liability, according to the county attorney's office. The lawsuit is to be dismissed with prejudice, according to the seven-paged settlement.
"We are pleased to see that the parties involved in this case reached a settlement; I had been pushing for this for quite some time," said County Executive Marc Elrich in the email.
"This incident has been thoroughly reviewed, including as part of the external audit conducted by Effective Law Enforcement for All (ELE4A), and has led to changes in officer training, incident reporting processes, and clarification of how officers should interact with students in our schools," Elrich wrote.
n a 51-minute video recorded by a police camera, the boy, is seen crying and coughing as he is told repeatedly by Montgomery County Police Officers Dionne Holliday and Kevin Christmon that he should be spanked and is a bad boy. Some of the verbal abuse was leveled just a few inches from his face. The boy also was placed in handcuffs for a short time.
The mother of the young boy filed a civil lawsuit, requesting $75,000 in compensatory damages and $200,000 in punitive damages for each of the 13 counts, for a total of $3,575,000
According to court documents, the then-kindergarten student, broke a computer and hit another child with a clipboard before fleeing from the school. Staff at the school alerted Montgomery County Police Department. The two officers soon found the boy two-tenths of a mile from the school.
The agreement "expresses a full and complete settlement of all liability claimed and denied" and "is intended to avoid further litigation."
The settlement was signed on Aug. 1 by Shanta Grant, the boy's parent.
Related Post
County, Schools, MCPD Officers Sued in School Incident Captured on Police Video