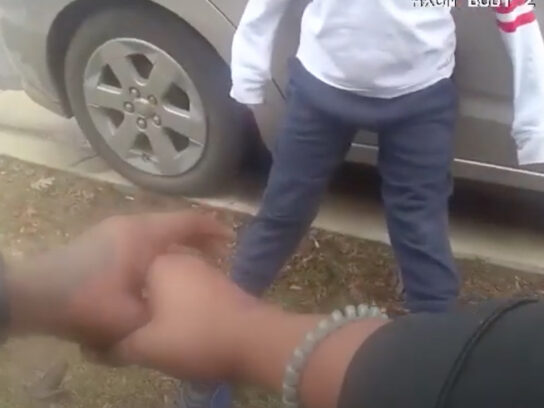 The 51 minute police camera video that vividly showed two Montgomery County Police (MCPD) officers verbally berating and handcuffing a five-year-old East Silver Spring Elementary School kindergartner who ran from the school building — has gone viral — creating a storm of outrage on social media that spread far beyond the county borders.
The video was shown on national and local television news, including Fox 5's "On the Hill," which interviewed County Executive Marc Elrich. "I was pretty horrified. It's really painful to watch. There are not two ways, you cant's sugarcoat this," he said during the televised interview, adding that the video "created exactly the firestorm I thought it would."
Elrich indicated the two officers should have returned the child to the school.  "… and that's it," he said.
Before releasing the video, the face of the five-year-old was blurred, and Elrich said "at the last minute, we were asked to remove the faces of the teachers" as well.
It wasn't just the two officers who were at fault, Elrich said. "There are a lot of adults in the room who could have said that's not the way we treat children."
Members of the county council and MCPS have been debating the role of Student Resource Officers (SRO) in the schools, and Elrich called it ironic that the two officers who responded to East Silver Spring Elementary School  for a child who left the building were not even the SRO assigned to that school cluster. SROs are not assigned to elementary schools but do cover a particular area that includes the feeder schools to the middle and high schools.
Councilmember Will Jawando appeared on NBC Nightly News March 17 "to discuss the horrific video released by MCPD yesterday that I requested 3 months ago.These officers should be fired & we must continue our work to reimagine public safety," he tweeted. 
During the short interview, Jawando noted, "You shouldn't treat a human being the way this young boy was treated" and said the police officers "should be fired."
Officers Dionne Holliday and Kevin Christmon remain employed by the MCPD, which would not discuss the results of the incident investigation, because the boy's mother, Shanta Grant, filed a civil suit against the county and the Board of Education. This on charges of assault, battery, false arrest, false imprisonment, negligence and infliction of emotional distress.
The Montgomery County Council of Parent-Teacher Associations (MCCPTA) issued a statement. "As parents and as people, our hearts break. We send our children to school trusting our teachers and staff to not only educate them, but to also care for them and keep them safe. "
MCCPTA "strongly condemns" the police officers and MCPS staff who appeared in the video. "These officers and MCPS staff repeatedly inflicted psychological abuse, as defined by the Center for Disease Control, displaying a galling lack of regard for the mental and physical wellbeing of the child in question. Whether as instigators or as bystanders, every adult in the room failed the person MCCPTA was created to advocate for the child."
The organization called for "immediate and appropriate action, up to and including removal, of the MCPD officers and MCPS staff members directly and indirectly involved in the abuse of this child." The statement called on MCPS "to take action that goes over and beyond merely 'ensur[ing] that the school system's procedures and expectations are clear to all staff."
As parents and as people, our hearts break. We send our children to school trusting our teachers and staff to not only educate them, but to also care for them and keep them safe. @MCPS @mocoboe @MontgomeryCoMD @mcpnews @MoCoCouncilMD pic.twitter.com/ako0y0bQuX

— MCCPTA (@MCC_PTA) March 29, 2021
Related Post