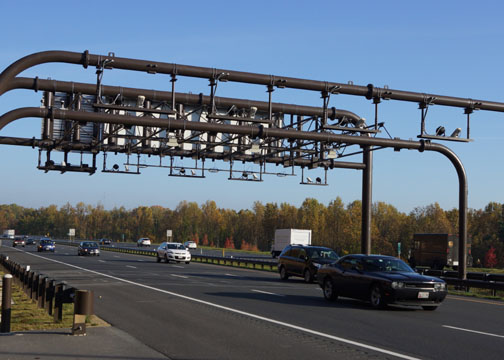 A motorcyclist died after colliding with a Montgomery County police officer on the MD-200 Intercounty Connector (ICC) Thursday evening, according to a press release. Officials closed all lanes in both directions for investigation throughout the night and into Friday morning.
At 7:28 p.m. the on-duty officer was driving westbound in his patrol car between Georgia Avenue and Shady Grove Road when a motorcyclist moving at a "high rate of speed" crashed into the back of the vehicle. The motorcyclist was ejected from the motorcycle and pronounced dead on the scene. The officer was taken to a hospital with non-life-threatening injuries.
The ICC closed for the next seven hours, reopening around 3 a.m. Friday, said police. Many drivers in both directions turned around and drove in the opposite direction to get out of the traffic while emergency responders sped past to get to the scene. Some drivers drove over the grass and rocks in the median.
The identities of the motorcyclist and officer have not been released. The investigation is currently ongoing, said police.