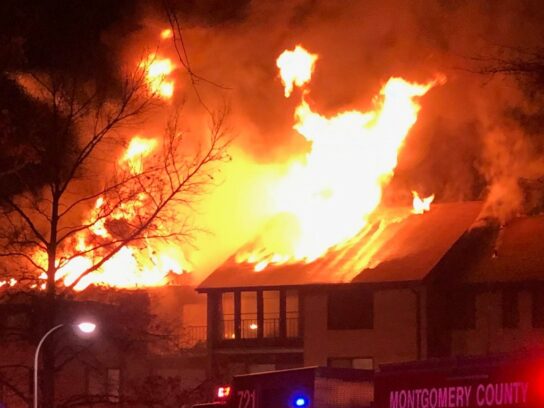 Updated [Dec. 2 at 5:00 p.m.]: Montgomery County Police have identified the woman who died after a fire at an apartment complex in Leisure World on Nov. 28.
Authorities say 89-year-old Louise Burrows was found deceased in her apartment on the 15000 block of Elkridge Way in Silver Spring.
The cause of the fire is under investigation. Police say no foul play is suspected.
The Red Cross helped about 50 residents who had to be displaced.
[hr]
Original Post [Nov. 28]: One woman died and 50 residents were displaced due to an early morning fire on Saturday in the 15000 block of Elkridge Way in Leisure World in Silver Spring.
Detectives from the Montgomery County Department of Police, Major Crimes Division and Fire Explosive Investigators from the Montgomery County Fire and Rescue Service are conducting a death investigation. No foul play is suspected as of Saturday afternoon.
MCFRS located a deceased female resident inside her apartment, which she shared with roommates. She was not identified, pending notification of her family.
According to Pete Piringer, MCFRS spokesperson, the fire caused $2.5 million in damage and its cause is under investigation. The fire most likely started on a third floor balcony of the three-story building and then extended to the attic and roof, where it may have burned undetected for a prolonger period, Piringer said.
The Red Cross helped those who had to be evacuated find shelter.
Leisure World is a senior community for people 55 and older.
3-Alarm fire causes significant damage to apartment bldg on Elkridge Way in Leisure World community . Leisure World is an age-restricted (55+), gated development primarily inhabited by retirees. The alarm was sounding & bldg being evacuated upon arrival of @mcfrs FFs. No injuries pic.twitter.com/LoMMCn91JR

— Pete Piringer (@mcfrsPIO) November 28, 2020
Update (~130a 11/28) 15210 Elkridge Way, Leisure World; 1 person died; Fire Cause, under investigation/undetermined; Area of Origin, most probable 3rd floor balcony, extended to attic/roof) fire likely burned undetected for prolonged period; Damage $2.5M; 50 residents displaced; pic.twitter.com/HX3eXv8YRm

— Pete Piringer (@mcfrsPIO) November 28, 2020
Update – Leisure World (11/28) fatal fire https://t.co/kj38La1rDc

— Pete Piringer (@mcfrsPIO) November 28, 2020
FATAL FIRE (@MontgomeryCoMD (11/28) Montgomery County Dept of Police are conducting a death investigation following a fire at 15210 Elkridge Way, in Leisure World. After dozens of residents were evacuated w/o injury, early this morning FFs located a missing resident in her apt https://t.co/JurPwmot3a pic.twitter.com/pMzhtNwpiW

— Pete Piringer (@mcfrsPIO) November 28, 2020