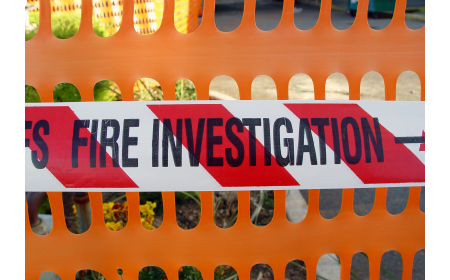 Child Dies in Two-Alarm Fire, 40 Residents Displaced
UPDATED A four-year-old boy was killed in a two-alarm fire at the Cider Mill apartment complex on Jan. 8 and several other residents were injured, according to Montgomery County fire officials.
The blaze was reported shortly after 4 p.m. in the 18200 block of Lost Knife Circle in Montgomery Village.
Firefighters used ground ladders to rescue several people from the burning building.
Over 80 firefighters were dispatched to the scene of the fire.
Officials said it took about 20 minutes for firefighters to extinguish the bulk of the fire. During the fire department's response, Ride On buses were provided to provide shelter and a refuge area for occupants and to assist building management.
One adult male, rescued from a balcony, was transported to a local specialty center in serious condition with life-threatening injuries, according to a news release issued by fire and rescue officials. The news release said another adult male was transported to a local specialty center with unconfirmed injuries and two children were transported to a local hospital for evaluation and check-ups.
Fire officials said 12 apartments were damaged by the fire and approximately 40 residents have been displaced. The American Red Cross and the apartment's property management office are assisting residents displaced by the fire.
Fire investigators have ruled the cause of the fire as accidental. Damage is estimated at over $1 million. Fire officials said preliminary damage estimates include $750,000 to the structure and $300,000 to the contents.
The victim of the fatal fire has been identified as four-year-old Lancelot Quarshie of the 18200 block of Lost Knife Circle in Montgomery Village. Investigators have determined the origin of the fire to be in the area of the kitchen and the cause is classified as undetermined while further investigation is conducted.
As part of an educational campaign, firefighters have been in the area of the Cider Mill Apartment complex distributing information to residents about fire safety and offering to check smoke alarms.
This program is part of the Fire Chief's "Safety in Our Neighborhood" community outreach educational campaign conducted by firefighters throughout the County each Saturday. Any resident that would like more information about the program or to have their smoke alarms checked should call 311 to schedule a visit by firefighters.

Related posts: