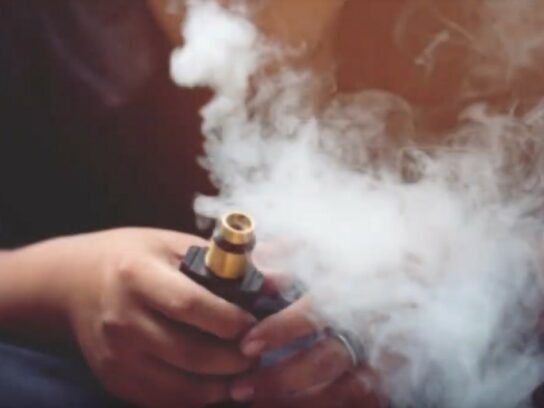 The Food and Drug Administration on Thursday announced companies had 30 days to stop manufacturing and selling certain flavors of e-cigarettes that appeal to young people.
The action still allows tobacco- and menthol-flavored e-cigarettes but targets fruit flavors and mint.
In a statement, Alex Azar, secretary of the Department of Health and Human Services, said: "The United States has never seen an epidemic of substance use arise as quickly as our current epidemic of youth use of e-cigarettes."
The decision prioritizes enforcement against the products most widely used by children, he said.
The FDA will allow tobacco- and menthol-flavored e-cigarettes as a potential "off-ramp" to help adults quit smoking while preventing an "on-ramp" to teenage nicotine addiction.
The decision comes as Comptroller Peter Franchot continues his "e-facts" task force, which met for the first time Dec. 3 at the University of Maryland, College Park. Its second meeting has been scheduled for Jan. 9 at Anne Arundel Community College in Arnold.
"Vaping is a proven threat to the health and safety of innocent people, especially children whom manufacturers have targeted with slick marketing and easy-to-conceal products. I'm pleased that the FDA has taken strong action to ban most fruit- and mint-flavored vaping liquids. As the state's chief tobacco regulator, I will work with our federal and local partners to keep these products out of the hands of our kids," Franchot said, in a statement emailed to MyMCMedia.org.
The FDA intends to focus enforcement on the flavored electronic nicotine delivery systems, or ENDS. In addition, the FDA is targeting products that have failed to take steps to prevent minors' access; and any ENDS product that is targeted to minors or likely to promote use of ENDS by minors.
In his statement, Azar said: "We will not stand idly by as this crisis among America's youth grows and evolves, and we will continue monitoring the situation and take further actions as necessary."
Federal studies show more than 5 million U.S. middle and high school students are current e-cigarette users (they have used an e-cigarette in the last 30 days).