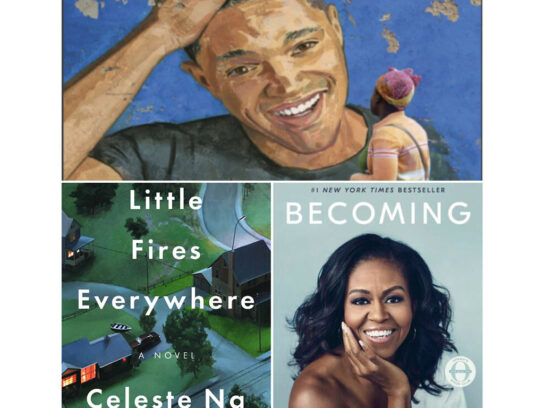 Know anyone in Montgomery County who made a New Year's resolution to read more books? Montgomery County Public Libraries has announced its most popular adult fiction and nonfiction books that were borrowed in 2019.
Among the most borrowed fiction books are Celest Ng's "Little Fires Everywhere," Amor Towles' "A Gentleman in Moscow," and Liane Moriarty's "Nine Perfect Strangers." Comedian Trevor Noah's memoir "Born a Crime: Stories from a South African Childhood" was the most borrowed nonfiction book in 2019. Other popular nonfiction library books include Michelle Obama's "Becoming," Susan Orlean's "The Library Book," and Tara Westover's "Educated."
Author Kristin Hannah has two books that appear on the most borrowed adult fiction list: "The Great Alone" (2017) ranked fourth on the list and "The Nightingale" ranked 16th on the list. Tidying expert Marie Kondo has two books that appear on the most borrowed adult nonfiction books list: "The Life-Changing Magic of Tidying Up: The Japanese Art of Decluttering and Organizing" (2014) ranked seventh and "Spark Joy: An Illustrated Master Class on the Art of Organizing and Tidying Up" (2016) ranked 14th on the list. Kondo's books explain the KonMari Method of decluttering and tidying up. The books have been so influential that Netflix launched the series "Tidying Up with Marie Kondo" last January.
Check out some of the most popular library books in Montgomery County from 2019.
Most Borrowed Adult Fiction in Montgomery County
"Little Fires Everywhere" by Celeste Ng (2017)
"A Gentleman in Moscow" by Amor Towles (2016)
"Nine Perfect Strangers" by Liane Moriarty (2018)
"The Great Alone" by Kristin Hannah (2017)
"The Underground Railroad: A Novel" by Colson Whitehead (2016)
"The Reckoning" by John Grisham (2018)
"All the Light We Cannot See: A Novel" by Anthony Doerr (2014)
"Dark Sacred Night" by Michael Connelly (2018)
"Past Tense: A Jack Reacher Novel" by Lee Child (2018)
"An American Marriage" by Tayari Jones (2018)
"Crazy Rich Asians" by Kwan Kevin (2013)
"Run Away" by Harlan Coben (2019)
"The Woman in the Window" by A. J. Finn (2017)
"Long Road to Mercy" David Baldacci (2018)
"Pachinko" by Min Jin Lee (2017)
"The Nightingale" by Kristin Hannah (2015)
"A Spark of Light" by Jodi Picoult (2018)
"Unsheltered" by Barbara Kingsolver (2018)
"Where'd You Go, Bernadette" by Maria Semple (2012)
"The Handmaid's Tale" by Margaret Atwood (1985)
Most Borrowed Adult Nonfiction in Montgomery County
"Born a Crime: Stories from a South African Childhood" by Trevor Noah (2016)
"Becoming" by Michelle Obama (2018)
"The Library Book" by Susan Orlean (2017)
"Educated" by Tara Westover (2018)
"Killers of the Flower Moon: The Osage Murders and the Birth of the FBI" by David Grann (2017)
"Hillbilly Elegy: A Memoir of a Family and Culture in Crisis" by J. D. Vance (2016)
"The Life-Changing Magic of Tidying Up: The Japanese Art of Decluttering and Organizing" by Marie Kondo (2014)
"Rich Dad Poor Dad" by Robert T. Kiyosaki (20th Anniversary Edition) (1997)
"Inheritance: A Memoir of Genealogy, Paternity, and Love" by Dani Shapiro (2019)
Official TOEFL iBT Tests
"Being Mortal: Medicine and What Matters in the End" by Atul Gawande (2014)
"Outer Order, Inner Calm: Declutter & Organize to Make More Room for Happiness" by Gretchen Rubin (2019)
"Fear: Trump in the White House" by Bob Woodward (2018)
"Spark Joy: An Illustrated Master Class on the Art of Organizing and Tidying Up" by Marie Kondo (2016)
"When Breath Becomes Air" by Paul Kalanithi (2016)
"Bad Blood: Secrets and Lies in a Silicon Valley Startup" by John Carreyrou (2018)
"Between the World and Me" Ta-Nehisi Coates (2015)
"Salt, Fat, Acid 'Heat': The Four Elements of Good Cooking" by Samin Nosrat (2017)
"Grit: The Power of Passion and Perseverance" by Angela Duckworth (2016)
"The Fifth Risk" by Michael Lewis (2018)